In September 2014 the ministry of industry and information technology released the data that 833 million people have ever surfed the internet by mobile. Thus it can be seen the rapid development of the mobile internet is certain to subvert the traditional reasonable.
Take a look at some traditional retailers such as Walmart, which struggles to compete with eCommerce big giants like JD or Amazon. Especially in mobile eCommerce, how to promote mobile eCommerce in China based on various of shops(e.g. Wechat shop)? Here are 5 tips may help you.
1. Find buyers
There is a little bit differences between domestic and abroad for mobile users in terms of the use of environment and devices. In China, people are prefer to use mobile apps rather than mobile web. And about 60% of them use Android. They focus on some super apps for example Wechat, Weibo or QQ. In addition, they often use the app which related to their jobs or industries.
From the perspective of shopping entrance, consumers are used to shopping in Mobile Taobao, Wechat mall and some other vertical eCommerce platforms like JD or Dangdang. What we need to do, is position ourselves.
2. Find Sellers
Sellers usually accompany with buyers, just like coffee and sugar. Buyers are wherever sellers are. There is a famous saying in China. "The earth had no roads to begin with, but when many men pass one way, a road is made." Even Wechat moments can be a business opportunity. Generally, big eCommerce owners usually have shops in many platforms. Some of them also already developed their own apps.
The difference among industries will also affect the choice. Some big electronics are often sold in JD. But for clothes, they are often sold in Tmall or Taobao.
3. Take your brand to mobile users
Brands can't ignore mobile, and neither can bloggers, software developers, business owners … you get the picture. One way to get your brand out there is with mobile ads, which you can run through social media and other channels.
A recent case study by Medialets shows higher CTRs on tablets (0.59%) compared to desktops (0.23%). Ads on mobile apps performed twice as well as those on mobile websites.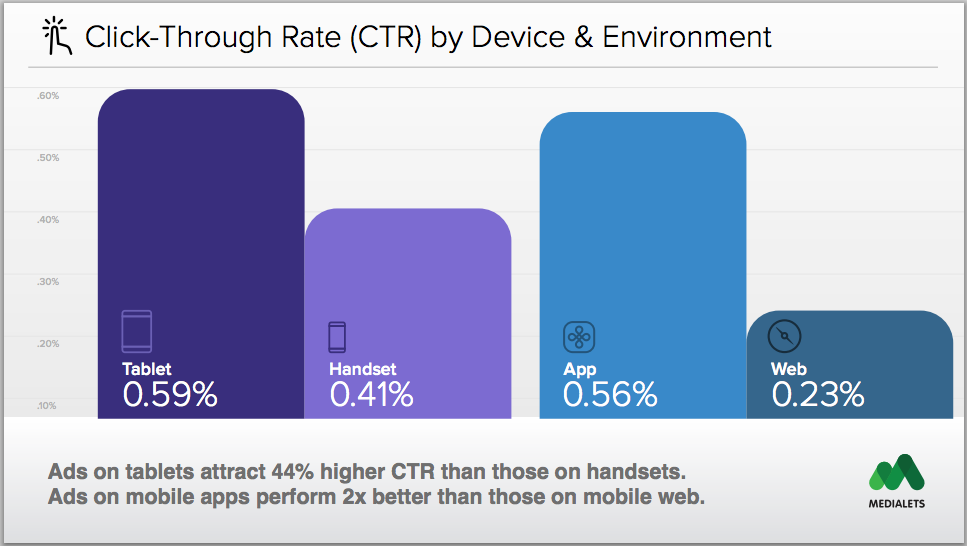 To use mobile ads, the first thing you have to do is identify your core audience. Unless your brand is as huge as Apple and Hewlett Packard, you can't market to everyone.
You also have to help mobile users discover you, using mobile SEO and delivering convenience so that users can easily access your products and services and get what they need.
Here's an example. Hotel Tonight is an app that enables prospective guests to book rooms and specify dates of arrival and departure. Once you download and install it, it's good to go. It's all about convenience and solving a particular problem for mobile users.
4. Mobile social marketing
Smartphones and tablets have become the favorite devices to browse and purchase online. That's why strategies must consider m-commerce like the main sales channels in 2015. In that respect, mobile devices are expected to become the most used gadget, so apps will be more useful, easier to use and interesting for users. On the other hand, QR codes will be more used by people with higher developments and utilities, and there will be more personalized offers due to geolocalization.
The key takeaways for the upcoming year is to prepare for mobile campaigns, up your social media marketing budget, start filming, and continue to create great content for your target audience.
5. Multi channel / Cross screen
Ninety-one percent of consumers say access to content anyway they want is important, according to the 2014 Mobile Behavior Report. Make sure you are reaching your target audience the way they want to be reached. In any given day, we use different screens, platforms and networks.
Be consistent in your message across all channels, but create a strategy specific to each network. Use mobile-optimized images and don't share the exact same image and text on every channel. Modify it to the specific channel and stay on top of engagement. Too many brands still have not figured out that social is a two-way street. From blogging to visual content, a solid content strategy is a key foundation for social media success.