Have you always wanted to expand your business in China? In this article we will explore the opportunities for your organisation to drive your sales in China through Tmall Global.
Tmall vs Tmall Global
Although the Chinese cross-border eCommerce market is quite fragmented, it is nearly impossible not to mention Alibaba or JingDong. In China's eCommerce market Tmall is the largest online platform, and is owned by Alibaba Group Holding Ltd. As of now, Tmall has over 400 million buyers, over 50.000 merchants, and boasts over 70.000 brands. As the largest B2C retail platform in Asia they enable businesses to sell directly to millions of customers throughout China. As an open platform marketplace, Tmall provides the infrastructure to host your storefront and unfiltered access to hundreds of millions of shoppers. A storefront is much like operating your own B2C eCommerce website.
However, in order to offer your products through regular B2C eCommerce in China the products must be imported from abroad, which requires a legal entity in China. Similarly, opening up a store on a Chinese B2C eCommerce platform such as Tmall requires a company with a Chinese entity. For that reason, cross-border eCommerce offers a comparatively accessible entry strategy for foreign companies wanting to reach the Chinese online consumers.
We previously highlighted that cross-border eCommerce is subject to fewer taxes as well as compliance checks. More specifically, products on the "Positive Lists" for cross-border eCommerce contain 1.293 product categories which can be imported into bonded warehouse zones or overseas distribution centres linked to Chinese customs without applying for an import license or an import certificate. If your product falls under the positive list you will enjoy a referential tax of only 11.9%. A new round of policy extensions was announced at the State Council Executive Meeting in September 2017. Therefore, products on the Positive Lists will be exempt from compliance with China's product standards and import requirements until December 31st, 2018. Are you curious whether your product is on the Positive List, then please visit TMO's "Positive List Helper".
On February 19, 2014, Tmall officially launched Tmall Global, through which domestic Chinese online consumers are able to purchase products imported from overseas. Below you may find an overview of the main differences between Tmall and Tmall Global: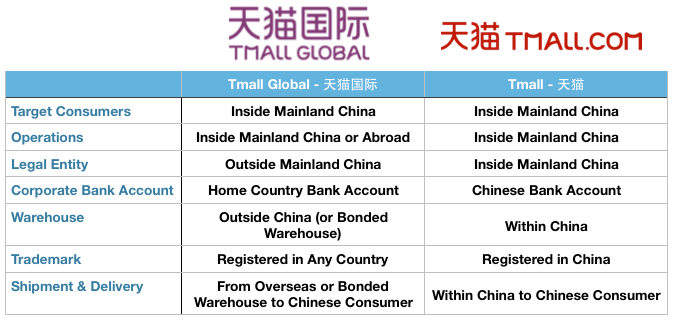 But what does Tmall Global look like? How can you create a store on the Tmall Global platform? What requirements does your company need to meet? How much does a shopfront on Tmall Global cost? And what does the entry process look like? In order to help you in answering these questions we have written this article.
Tmall Global
The aim of Tmall Global was to help overseas vendors capture Chinese consumers' booming appetite for better imported products. On March 21, 2018, Tmall Global announce plans to open six new procurement centres across the world to better realise those ambitions. These centres are to be established in Japan, South Korea, and Hong Kong as well as in the regions of North America, Europe, and Oceania. This move further underscores Alibaba Group's ambitions to further globalise and its commitment to close the gap between China's consumers and international brands.
The Tmall Global platform is the country's second most successful cross-border eCommerce platform, with 20.3% market share and over 5.400 available international brands which are either displayed on independently operated shopfronts (stores) or in a particular country pavilion – which bundles products of different merchants from the same country on one page. For example, the image below gives an example of the Holland Pavilion.
Holland Pavilion on Tmall Global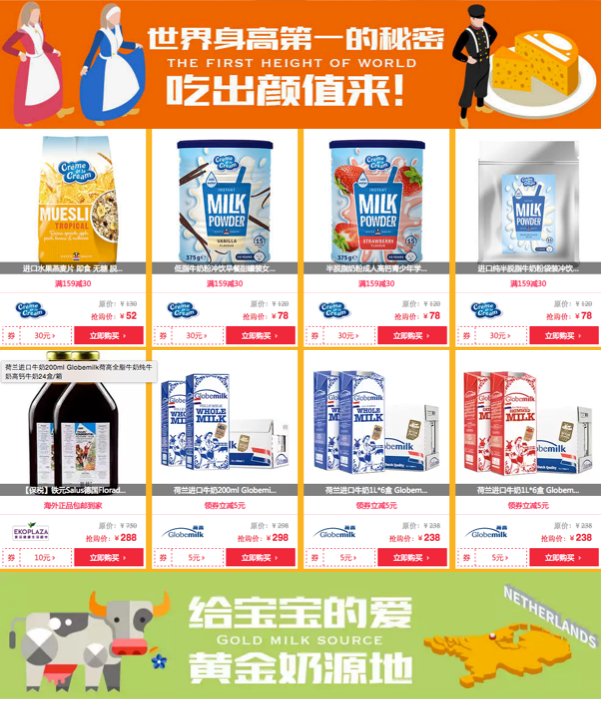 Leveraging Alibaba's expansive set of consumer analytics, Tmall Global provides overseas vendors insights into Chinese consumers shopping behaviour and preferences. "This year, we are committed to offer our overseas clients more personalised and customised solutions so they can receive faster and more direct assistance from the platform, which will enable and accelerate growth", said Tmall President Jet Jing. Such information should better assist small- and medium-sized businesses to make inroads in China, he added.
Tmall Global follows a complex merchant workflow from order to delivery as you can see in the flow chart below. Similar to Tmall's domestic B2C platform, Tmall Global offers foreign merchants the autonomy to design the storefront, but it utilises its complex online mall structure to combine flexibility and security for its customers.
Tmall Global Merchant Workflow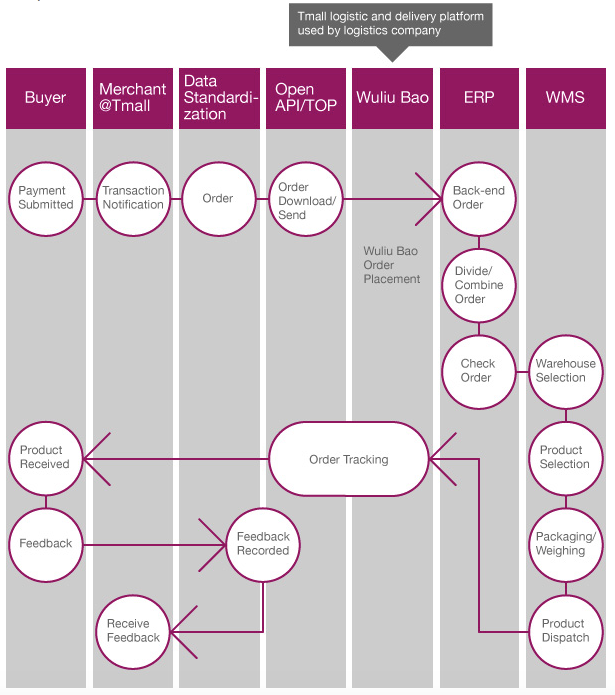 Entry Requirements
A company is eligible to participate in Tmall Global if they are registered outside of mainland China. However, Tmall Global will only recruit the purest overseas merchants globally for Chinese high-end consumers. Furthermore, in order to be considered for Tmall Global they must:
Have a registered corporate entity outside of mainland China

Possess the retail and trade qualifications overseas

Be the brand owner, authorised distribution agency, or possess the brand purchase voucher

Possess the relevant stock certificates
Furthermore, Tmall Global generally targets corporations that have been operating for over 2 years and with annual sales over 10 million USD.
Moreover, in order to comply with Chinese consumers laws, foreign merchants need to fulfil a number of operating process- as well as after-sales requirements. Tmall Global's Third Party service providers are able to help you with these processes. Nevertheless, you must provide the following for your customers:
Commodities: products originally produced or sold abroad must be genuine and complemented with a certificate of origin. Therefore, products must both clear Chinese international customs and Tmall Global security.

Webpage and Labelling: product descriptions as well as labels must be provided in Chinese, with the international metric system adopted as the unit of measurement. Furthermore, Chinese language customer support must be available, for which Tmall recommends employing Chinese Alitalk customer service.

Logistics: products should be dispatched within 120 hours and be delivered either directly by way of personal packages, or be delivered from China's bonded warehouses to mainland Chinese consumers.

After-sales: merchants are required to set locations for handling returns in mainland China, Hong Kong, and Taiwan, if you sell commodities to those respective regions.
Shop Types
As there are also several requirements depending on the product category or shop type, we will briefly explain the available shop options.
In order to be able to open a flagship store the products must have the relevant trade mark registrations in Hong Kong (® or ™) or have applied for the approval of a registered trademark in Hong Kong. Also, if you are the brand owner you must provide the trademark registration certificates for their products, or, if you are an authorised dealer you are required to provide the trademark registration for the products in combination with the letter of authorisation for selling the products.
In order to open a marketplace you must have applied for a Class 35 ("service mark") in Hong Kong. In line with opening a flagship store, owners must provide trademark registration certificates, however, authorised dealers must also provide the "service mark" and evidence of exclusive authorisation to operate a store on the tmall.hk website as well.
To open the authorised store, the products must have trademark registration in Hong Kong, where authorised dealers must provide evidence of the authorisation to operate a store on the tmall.hk platform.

For a specialty store merchants must provide evidence of the product source and invoices for the products purchased. Furthermore, the name of the shop shall not infringe the legitimate rights of others, and this type of store may only sell up to two categories of products.
Entry Process
Until recently, foreign companies were able to sign up on their own on Tmall Global in order to create a store on Tmall. However, since March 2015 Tmall announced an invitation-only policy for Tmall Global registration. To be specific, foreign companies are required to use authorised third party service provides (so-called Tmall Partners, or TP's), who have an existing relationship with Tmall, to gain an invitation to the site. Also, foreign companies need an Alipay account in order to be able to receive payment. Chinese consumers can pay in RMB for products ordered from Tmall through Alipay, after which Alipay converts RMB in a foreign currency and remits it to a foreign companies bank account.
Via this 'partnership structure', a local TP will help the foreign merchant to open a Tmall shopfront. The merchant is responsible for the products, branding, and marketing strategy whilst you can outsource daily operations of the storefront to the TP. The remainder of the entry process may be divided into the following steps and will take around 4 to 8 weeks to complete:
Entry preparations
Store application
Store development
Pre-launch
Launch
Costs
Although Tmall Global offers an obvious mechanism for gaining entry to the Chinese market, you should be aware of the costs associated with the Tmall Global marketplace. The costs associated with operating on Tmall Global can be divided into a Security Deposit, Service and Technology Fees, and an Annual Software Service Fee:
Merchants opening any of the store types must submit a required security deposit ranging between 150.000-300.000 USD.

The annual fee ranges from 30.000 USD to 60.000 USD, depending on the particular product category. Tmall Global also charges a commission fee based on the category of the product sold, calculated in the following way:
Commission Fee = ((Product Price) + (Logistics Fee)) * Applicable Commission rate
The Annual Software Service Fee is largely divided between a 2% and 5% tier. The distribution further varies between 0,5% to 10%, depending on the category. It is calculated accordingly:
Annual Software Service Fee = ((Product Price) + (Logistic Fee)) * Applicable Commission Rate
More information on the exact setup costs can be found in our recent article on marketplace setup fees.
Other relevant documents are:
To summarise
Tmall Global allows domestic Chinese online consumers to purchase overseas imported products, and hence may be considered as an alternative entry strategy to reach Chinese online consumers. However, the nature of the entry requirements in combination with the costs associated with establishing a presence on the platform are a number of entry barriers. Therefore, we recommend entry through Tmall Global larger internationally operating firms with an established brand or sufficient financial assets to stimulate traffic in order to drive sales and revenue.
Would you like to know what entry strategy will suit you best? Or are you curious about other channels for entry into China? Then please stay up to date as we will continue our series "2018 China eCommerce Insights 2018" by examining Tmall Global's most notable competitor JD.com and we will further explain for which companies JD offers a higher chance for success in China's eCommerce market. Please feel free to contact us for a market opportunity scan or for an eCommerce strategy development proposal at info@tmogroup.asia.
This is the second article in our "China eCommerce Insights 2018" series. If you have missed our first article about the basics of Chinese eCommerce, then please take a look at our previous article TMO's 2018 China eCommerce Insights. Throughout this series we will provide you with a complete overview of China's eCommerce market and the Information you need to succeed.
If you enjoyed this article, we suggest you take a look at our piece on Chinese Marketplace Store Setup for instructions on setting up a storefront on one of China's popular eCommerce marketplaces.