China Health Supplements Market Data Pack - July 2023
Each month, TMO Group compiles data from Alibaba's family of eCommerce platforms (including Taobao, Tmall, Tmall Global, and Tmall Supermarket) regarding sales of health supplements both domestically and across borders. This data is presented in a form that's easier for English-speaking overseas companies and individuals to approach, with an array of charts and tables as well as translated terms.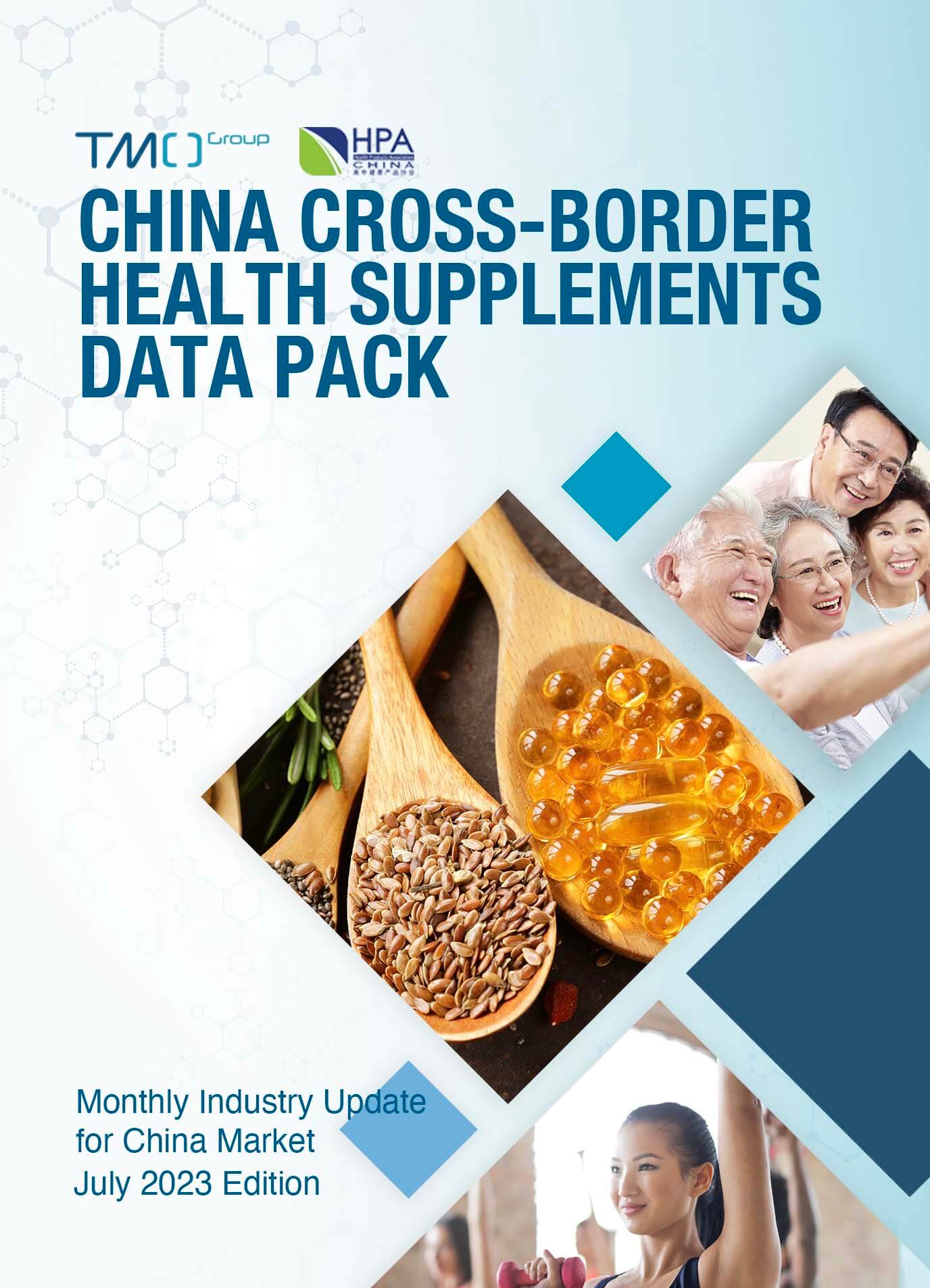 In July 2023, as the 618 promotion came to an end, sales of overseas health supplements on Taobao and Tmall decreased. The monthly sales amounted to approximately 1.4 billion yuan, a decrease of 25.74% on a MoM basis. The monthly sales volume reached approximately 6.14 million, a decrease of 32% on a MoM basis. However, there was still noticeable growth in both sales and sales volume when compared to the same period last year.
Among all the overseas brands, American brands Allnature and Folotto were the "dark horses" in July 2023.  In terms of the subcategory, the overseas heart health supplements continued to be popular and demand for respiratory nutrition supplements surged with  "COVID-19 Reinfection" becoming a heated issue in China. In addition, July, which coincided with summer vacation in China, was an important period for children and teenagers to adjust their physical and mental health, leading to a booming sales of health supplements for kids and teens.
July 2023 Highlights
Heart health supplements had the highest market share in sales, accounting for 18.85%, with sales reaching 260 million yuan. In addition, TMO observed that while the overall sales trend of overseas health supplements dropped, overseas respiratory nutrition supplements for lung health experienced a significant increase. In July 2023, the sales of overseas respiratory nutrition supplements reached the peak since May 2022, with a month-on-month increase of 113.76% and a year-on-year increase of 467.25%.
Swisse maintained its lead in sales with 148 million yuan in July 2023, representing a decrease of 42.32% compared to the previous month. It is worth noting that in July 2023, American brands Allnature and Folotto emerged as unexpected successes, entering the top ten list of sales for the first time since 2023 and ranking 5th and 6th respectively. This achievement can be attributed to the concentrated listings of related products by merchants. During the period from the end of June to July 2023, Allnature had 23 SPUs listed on Taobao and Tmall, including high-purity PQQ+ coenzyme Q10 mitochondrial beauty capsules, white kidney bean CLA citrus fiber, among others. Similarly, the brand Folotto also had 10 SPUs listed.
The July sales report revealed a clear trend towards health supplements for kids and teens as the champion products in terms of both sales and sales volume. Among the top-ranking products, a children's fish oil product and a children's calcium tablet secured the highest positions on the monthly sales and monthly sales volume lists. Another notable product was a liver detox tablet by the American brand GNC, securing a position in the top five on both the monthly sales and monthly sales volume lists.
Please download the report for free and find comprehensive information on product price ranges, popular product characteristics, top 10 cross-border stores, and more!
This data pack includes:
Analysis of the month's trends and biggest winners
The month's best-selling products
Sub-category market share
Market share by price range
Most popular brands
Brand price distribution
Best-selling product characteristics
Who are these data packs intended for?
These data packs are designed to assist researchers, data analysts, product development professionals, business decision makers, and anyone involved in strategic planning at overseas health supplements companies, or entities and individuals interested in this area. By keeping up with each month's shifts in sales and consumer behavior, such experts can get a more firm grip on the trends and shifting attitudes in China's growing and increasingly competitive health supplements market.
For more information, download this month's data pack today!
As well as our monthly data packs, we also put together a comprehensive guide to the health supplements industry in China, updated annually and available absolutely free right here.
Data upgrade notification:
Starting from the April 2023 monthly Datapack, TMO has optimized and adjusted the data collection methods used in the reports to provide readers with improved content. Readers will observe that the sales data in the data packs reflect a decrease compared to previous packs, albeit with the overall market landscape remaining unchanged. This is due to the enhanced accuracy of data collection, which improves the aggregation results in the following areas:
Store Count: The store count is calculated based on actual sales-generating stores, excluding inactive or non-performing stores from the calculation.
Product Count: The product count is determined by considering actual sales-generating products measured in terms of Standard Product Units (SPUs), excluding products that have not contributed to sales during the specified period.
Sales Volume: The sales volume data has been refined by removing anomalous data points such as fake orders, while also excluding returns and refunds. This ensures that the monthly sales volume reflects a more accurate representation of the actual market situation.
Sales Revenue: Due to adjustments in the calculation methodology for product count and sales volume, the monthly sales revenue data has noticeably decreased. TMO removes anomalous data points like fake orders and returns/refunds, resulting in more accurate sales revenue figures.
*Explanation of data deviations:
Although we utilize our own sophisticated and comprehensive algorithmic models for data analysis, it is important to note that there may still be some data deviations due to the nature of data collection and calculation dimensions. Here are a few factors that contribute to these deviations:
Overall Collection Dimension: There may be instances where some stores are not yet included in the data collection process, resulting in partial store coverage.
Accuracy of Sales Volume Dimension: Rapid delisting of certain products can result in missing relevant data, causing the sales volume to be slightly lower than the actual figures. Additionally, updates to public page data may introduce some delay, resulting in temporal discrepancies in the sales volume.
Accuracy of Sales Revenue Dimension: Some information, such as store-specific member coupons or platform-wide discounts, may not be accessible through public pages. The calculation of prices for multiple SKUs related to promotional coupons can introduce variations, leading to deviations in the accuracy of sales revenue calculations.
Overall data accuracy ranges from 80% to 95%, with some brands or stores exhibiting larger variances. 
Readers are advised to approach the data with caution and use it as a reference rather than an absolute measure.