The State of Malaysia and Its Political Situation
With a population of 32.7 million and a mostly Islamic population, Malaysia is a multi-ethnic and multicultural federation of 13 states and three federal regions that boasts significant advantages, in particular a highly strategic location in the heart of the Southeast Asian region.
Malaysia is a multilingual society whose major languages are Malay, Chinese, and English. Malay is also spoken in Indonesia, Brunei, and Singapore, making every one of Malaysia's major languages a useful cross-border communication tool. Malaysia is close to Indonesia, India, and even the Middle East, and the populations of these nations move frequently between them. Indonesia and the Malay people of Malaysia are especially close, culturally. In part due to the above, Malaysia has become a notable strategic gateway to Southeast Asia for businesses looking to enter the region.
Department of Statistics Malaysia 2022
On 20 August 2021, Dato' Sri Ismail Sabri bin Yaakob, was sworn in as the ninth Prime Minister of Malaysia before the Yang di-Pertuan Agong, Al-Sultan Abdullah Ri'ayatuddin Al-Mustafa Billah Shah. Malaysia has a conducive business environment, but its political landscape lacks stability due to recent administrative changes. Fortunately, the country boasts a robust legal system, well-developed infrastructure, an energetic labor force, and a friendly attitude toward the Chinese government.
Malaysia has a good business environment, a relatively sound legal system, a well-developed infrastructure, a young and active workforce, and a generally pro-China attitude from the government. China is one of Malaysia's biggest investors. Mahathir is well aware of the huge market potential provided by China's Belt and Road initiative, and the vast development space the project can give Malaysia, and so he remains open to continued deep cooperation with East Asia's premier superpower.
Malaysia's Consumers and eCommerce Potential
The country represents a highly promising eCommerce market. Data predicts that Malaysian eCommerce will grow to a value of over 16.83 billion USD by the end of 2025. Revenue growth is also predicted to be strong, with estimates placing the compound annual growth rate from 2022-2025 at 18.5%.
According to We Are Social, the number of Internet users in Malaysia is about 27.43 million (the Internet penetration rate is about 84.2%), and the number of e-commerce users is about 11.85 million (the eCommerce penetration rate is about 39%).
In addition, Malaysian consumers are particularly influenced by social media and word-of-mouth recommendations. Therefore, companies interested in entering the Malaysian market should put an appropriate focus on social media marketing strategies, video content, building consumer trust, developing loyalty programs, and communicating the right image.
Malaysian eCommerce Entry Strategies
There are three main entry strategies to consider for the Malaysian eCommerce market:
Cross-border eCommerce

Establishing a company/legal entity in Malaysia

Finding an agent
Cross-Border eCommerce Model
Many of Malaysia's platforms permit cross-border eCommerce and logistics. In addition, the Malaysian government currently does not impose strict requirements on the B2C eCommerce industry. Therefore, this is the fastest method to penetrate the Malaysian market and set up your cross-border business.
Disadvantages: Consumers will face high shipping costs and slow delivery times.

Establishing a Company
Many foreign companies realize the advantages of forming a joint venture between their subsidiaries and local business partners to handle sales, distribution networks, and services, for it has given them more direct control over these aspects.
Disadvantages: Doing so requires capital commitment and the ability to identify suitable local business partners.
Looking for Partners and Agents
Many foreign companies realize that getting in touch with a local dealer or agent is a good way to penetrate the Malaysian market. Local dealers are usually in charge of clearing customs and building relationships with existing wholesalers and retailers. They also carry out online and offline sales and provide after-sales services.
Disadvantages: Brands do not have complete control over the market and consumers.
Warehousing & Logistics in Malaysia
The logistics industry in Malaysia has evolved in recent years, underpinned by strong growth enablers such as better logistics infrastructure, increasing freight volumes and a structural growth in eCommerce.
Malaysia has developed an advanced network of modern land transportation that serves its domestic
needs as well as their neighboring countries – Singapore and Thailand. Owing to this excellent connectivity, inland truck transportation services have become one of the key elements of the commercial logistics industry.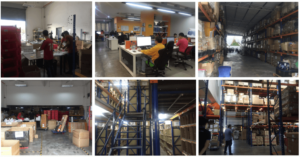 eCommerce Logistics Solutions
There are two main logistics models in use – multi-channel logistics mode and an eCommerce platform's own
logistics solutions. At present, Malaysian eCommerce is in the initial stage of growth and growth. The major eCommerce platforms are doing their best in operation and warehousing logistics (such as Lazada and Shopee have their own warehouses for merchants' inventory, and Shopee also provides free last-mile delivery service). Thanks to the business benefits, thanks to low operating costs and favorable policies, many businesses have entered the market early, and various e-commerce platforms have been stationed.
Multi-channel Logistics Model
Companies can choose to cooperate with multi-channel logistics providers to store goods in their central
warehouse. If the eCommerce platform receives the order, the marketplace will take the goods directly from
the central warehouse you have selected and distribute products to the consumer.
Malaysian Customs & Taxation
Import Tax
Both individuals and companies are liable to pay import taxes when they import goods to Malaysia. Goods are valued by cost, insurance, and freight (CIF) – so the complete shipping value is used when calculating import taxes. Additionally to this, some specific duties also take into account quantity, weight, and dimensions.
No VAT
There is no VAT in Malaysia, but rather the Sales and Services Tax (SST), which was replaced in 2015 by the
Goods and Services Tax (GST), and came back again as SST 2.0 three years later in September 2018.
Service Tax
Governed by the Service Tax Act 2018, the service tax can be defined as a tax charged and levied on
taxable services provided by any taxable person in Malaysia in the course and furtherance of business.
This tax is not relevant to imports because service tax is charged on taxable services provided in Malaysia and not on imported or exported services.
Sales Tax
Governed by the Sales Tax Act 2018, the Sales Tax is a federal consumption tax imposed on a wide variety of goods. It is levied on imported and locally manufactured goods, either at the time of importation or at the time the goods are sold or otherwise disposed of by the manufacturer.
Digital Tax
In April 2019, the Malaysian parliament approved the Service Tax (Amendment) Act 2019. A 6% service tax will be levied on digital services offered by foreign service providers.
Customs
When it comes to customs, Malaysia has categorized products into two exhaustive lists, one for prohibited products and another for restricted products. Additionally, Malaysia has mandatory labeling requirements for certain products, such as certain food products that require specific nutritional information be displayed on the packaging. Product certification (via Sirim QAS) is another important piece of the puzzle. Malaysia does not mandate product certification in all cases, but some products do still require certification. Required or not, Sirim QAS certification can also be an important tool to increase consumer trust in your products.
To address these areas in greater detail, TMO Group put together the Malaysia eCommerce Market GuideUpdated in 2022, a comprehensive guide to the eCommerce Market in Malaysia, covering market entry, marketing strategies, industry insights, and legal requirements.Malaysia eCommerce Market Localization Guide, which comprehensively deconstructs Malaysia's cross-border eCommerce ecosystem and elaborates in-depth on the multiple key dimensions involved in the Malaysian eCommerce sphere, such as entry strategies, eCommerce structure, warehousing and logistics, payment options, sales channels, legal framework, consumer insights, marketing and social media strategies, customs and taxation, and the most recent trends in all these areas. This guide – updated periodically – was made with the intention of helping you and your business enter and flourish in the Malaysian eCommerce market.
If you're interested to know more about the Malaysian eCommerce market, check out our Malaysia eCommerce Market Localization Guide or contact TMO Group's Malaysian eCommerce experts directly!
Malaysia eCommerce Market GuideUpdated in 2022, a comprehensive guide to the eCommerce Market in Malaysia, covering market entry, marketing strategies, industry insights, and legal requirements.