The State of Malaysia and Its Political Situation
With a population of 32.69 million and a mostly Islamic population, Malaysia is a multi-ethnic and multicultural federation of 13 states and three federal regions that boasts significant advantages, in particular a highly strategic location in the heart of the Southeast Asian region.
Malaysia is a multilingual society whose major languages are Malay, Chinese, and English. Malay is also spoken in Indonesia, Brunei, and Singapore, making every one of Malaysia's major languages a useful cross-border communication tool. Malaysia is close to Indonesia, India, and even the Middle East, and the populations of these nations move frequently between them. Indonesia and the Malay people of Malaysia are especially close, culturally. In part due to the above, Malaysia has become a notable strategic gateway to Southeast Asia for businesses looking to enter the region.
Department of Statistics Malaysia 2020
Malaysia has a good business environment, a relatively sound legal system, a well-developed infrastructure, a young and active workforce, and a generally pro-China attitude from the government. In May 2018, 92-year-old Mahathir Mohamad was re-elected prime minister on a platform of anti-corruption, sustainable development, and environmental protection, championing initiatives to support these goals while re-examining the previous government's foreign direct investment (FDI) program. Due to this change, Malaysia is in a state of flux, with many laws and policies becoming less clear, especially going forward. Local businesses and enterprises have adopted a wait-and-see approach for the time being, until the national direction and some of the legal specifics become clearer.
China is one of Malaysia's biggest investors. Mahathir is well aware of the huge market potential provided by China's Belt and Road initiative, and the vast development space the project can give Malaysia, and so he remains open to continued deep cooperation with East Asia's premier superpower.
Malaysia's Consumers and eCommerce Potential
Malaysian eCommerce is currently developing at a breakneck pace. It is estimated Malaysia's eCommerce market will surpass $8.9 billion USD this year. 
Malaysian consumers are very digitally savvy and tend to be relatively wealthy compared to neighboring nations. Online annual consumption per capita is $127 USD, while the penetration rates in Malaysia for Internet and smartphones are 98% and 94%, respectively. This greater access to the Internet also provides a firm foundation for offline consumers to move online.
*To compare, China's Internet penetration is only 61.2%
In addition, Malaysian consumers are particularly influenced by social media and word-of-mouth recommendations. Therefore, companies interested in entering the Malaysian market should put an appropriate focus on social media marketing strategies, video content, building consumer trust, developing loyalty programs, and communicating the right image.
Malaysian eCommerce Entry Strategies
There are three main entry strategies to consider for the Malaysian eCommerce market:
Cross-border eCommerce

Establishing a company/legal entity in Malaysia

Finding an agent
At present, business policies in Malaysia are fairly relaxed and welcoming, and cross-border business can be carried out quickly without the need to establish a local company. Moreover, eCommerce platforms like Lazada and Shopee allow foreign companies to register directly for cross-border sales. Such platforms can therefore be a good way (much as using an agent can be) for companies to test the waters of the Malaysian market without directly establishing a presence in the country.

On the other hand, for companies that are interested in entering the Malaysian market long term, we recommend establishing a company in the country. The most popular kind of company for this purpose is a private limited company, or "Sdn Bhd". Other kinds of companies, such as representative offices and offshore international companies (or "Labuan"), are also viable options for some business models and strategies.
Malaysia is also home to multiple free trade zones (FTZs) and a digital free trade zone (DFTZ), in which a company can enjoy tax-free profits and exemption from VAT, property tax, customs fees, and so on.
Warehousing & Logistics in Malaysia
Thanks to strong growth drivers such as improving logistics infrastructure, increasing freight volume, and structural eCommerce growth, the Malaysian logistics has continually evolved in recent years, realizing its ambitions of larger-scale networks and greater eCommerce integration.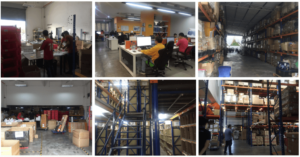 Presently, large-scale eCommerce platforms such as Lazada and Shopee have set up their own warehouses across Malaysia to help provide platform-operated logistics distribution. These major platforms are in a rush to snatch up as many merchants as they can, even offering free shipping and warehousing to merchants who sign on.
However, as Malaysia is still an emerging market, it may be difficult for companies to estimate sales in the entry stages. If one stores all their goods in an eCommerce platform's warehousing, this can potentially lead to goods piling up and not being circulated widely or efficiently. Even if one was to have these piled up goods returned for redistribution, this can incur further logistics costs. Therefore, it can be beneficial to find a central warehouse supplier and connect to eCommerce platforms through this method. This method is outlined in detail below:
Malaysian Customs & Taxation
Malaysia currently imposes two taxes relevant to overseas companies wishing to sell their products in the country: import tax and sales & service tax (SST). Due to the current ambiguous state the country is in with regards to cross-border eCommerce policies, only import tax is being charged on cross-border eCommerce products – for now, SST is not being charged on these. This is good news for enterprises, and as such right now presents a window of opportunity to test the waters of cross-border eCommerce into Malaysia, for now at least.
When it comes to customs, Malaysia has categorized products into two exhaustive lists, one for prohibited products and another for restricted products. Additionally, Malaysia has mandatory labeling requirements for certain products, such as certain food products that require specific nutritional information be displayed on the packaging. Product certification (via Sirim QAS) is another important piece of the puzzle. Malaysia does not mandate product certification in all cases, but some products do still require certification. Required or not, Sirim QAS certification can also be an important tool to increase consumer trust in your products.
To address these areas in greater detail, TMO Group put together the Malaysia eCommerce Market GuideA comprehensive guide to the eCommerce Market in Malaysia, covering market entry, marketing strategies, industry insights, and legal requirements.Malaysia eCommerce Market Localization Guide, which comprehensively deconstructs Malaysia's cross-border eCommerce ecosystem and elaborates in-depth on the multiple key dimensions involved in the Malaysian eCommerce sphere, such as entry strategies, eCommerce structure, warehousing and logistics, payment options, sales channels, legal framework, consumer insights, marketing and social media strategies, customs and taxation, and the most recent trends in all these areas. This guide – updated periodically – was made with the intention of helping you and your business enter and flourish in the Malaysian eCommerce market.
If you're interested to know more about the Malaysian eCommerce market, check out our Malaysia eCommerce Market Localization Guide or contact TMO Group's Malaysian eCommerce experts directly!
Malaysia eCommerce Market GuideA comprehensive guide to the eCommerce Market in Malaysia, covering market entry, marketing strategies, industry insights, and legal requirements.