Thailand eCommerce Market Localization Starter Guide 2020
This report is a starter guide to the Thai eCommerce market. Get an introduction and extensive guide on how to start in one of the world's most exciting eCommerce markets.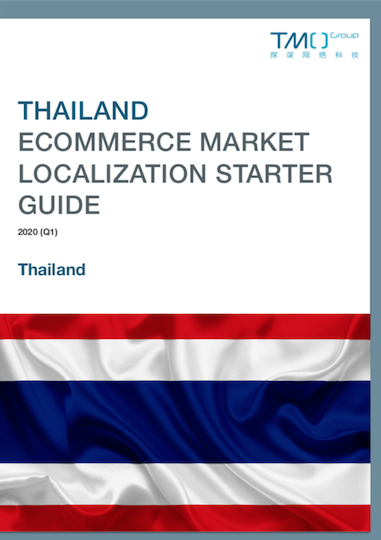 Thailand is a Southeast Asian country with considerable potential and that is looking increasingly attractive to foreign investors. With eCommerce set to expand over the next few years, the opportunity to get in on the ground floor before other global competitors is considerable – but due to the fact that this market has yet to mature, there exist challenges in adopting this strategy. We therefore put together this Starter Guide with the aim of providing an overview of how overseas companies can successfully enter the market and establish a flourishing business there.
Do you want to know more about:
What the recent developments are for cross-border eCommerce in Thailand?
How the Thai eCommerce market is structured?
Which entry strategies can be employed?
When do you need a legal entity?
Which sales channels and models are there?
Tips and advice for different topics such as payment methods and marketing strategies
Download our Thailand eCommerce Market Localization Starter Guide now for free! Or if you want more information and insights, you can also purchase our in-depth Thailand eCommerce Market Localization Guide.
FAQ
Q1: How can I get a copy of this eCommerce Market Localization Starter Guide?
A1: Just click on the 'download now' button and fill out your business details on the next page. We will then send you a personal download link for your copy of the preview in PDF format.
Q2: What is the difference between the starter's guide and the in-depth guide?
A2: All our guides are based on TMO Group's 20+ years of experience and composed by our team of eCommerce market researchers. However, the in-depth guide offers more insights and detailed information than the starter's guide.
Q3: I filled out my (personal) email address, why did I not receive a download link?
A3: Please make sure you are not using a gmail, hotmail or any other general email account. To receive a download link, you need to use a business email address.
Q4: What should I do if I have not received my email?
A4: If you encounter any problems throughout the downloading process, get in touch with us. You can reach us through our online customer service. Alternatively, you can send an email to info@tmogroup.asia or give us a call at +86 (0)21 617 00 396.