A unique feature of Chinese eCommerce is its connection with social media. Therefore, opening a WeChat Store could enable business to successfully sell to Chinese consumers. For that reason, this fourth article in our series "2018 China eCommerce Insights" will guide you through the basics of WeChat store setup. If you have missed any of our previous articles, then take a look at the related posts to the right.
WeChat
In 2011 Tencent released WeChat, which to foreigners is primarily known as a messaging app. However, it is better characterised as a superapp which has become the lifeline of 900 million daily users across China. Its functions have grown to include WeChat Pay (allowing users to pay their bills without leaving the app), order food and taxis, book appointments, purchase tickets, and much more.
By using unique social media applications, such as WeChat, companies can both sell and engage with their customers/followers on one overarching platform which is deeply embedded into everyday Chinese lives.
Why Sell on WeChat?
It would be only natural that any brand would be interested in using a social platform with 902 million active daily users. What's more, the app seems to bring seemingly unlimited business opportunities, it has easy-to-share social attributes, it attracts more and more brands to the WeChat platform, and WeChat eCommerce is becoming a brand multi-channel strategy.
However most importantly, opening a WeChat Store presents an excellent growth strategy. To be specific, brands who have yet to enter the public eye of Chinese consumers can strengthen their brand influence through social media. After all, without brand awareness, relying solely on a big platform for higher traffic will be of no use.
Additionally, WeChat eCommerce can also enable you to focus on a specific target group and better understand your customer and learn about their desires, whilst building a long-term relationship.
What Are My Options?
Apart from a WeChat personal account we can characterise 4 different official WeChat accounts, of whom 3 are suitable for eCommerce.
A WeChat subscription account allows you to send one push message per day to followers. However, you are less visible as subscription accounts are nested under the subscriptions folder.
A WeChat service account appears as a friend in the chat section, making them extremely visible. What is more, service accounts have additional features such as voice recognition and the ability to generate multiple QR codes. On the downside, however, you can only post 4 messages per month.
WeChat mini programs were newly launched in January 2017. There are virtually no limits to the functionalities of mini programs. But since they are basically just an app, you are not able to acquire followers and cannot send push notifications, and are not likely to gain much exposure.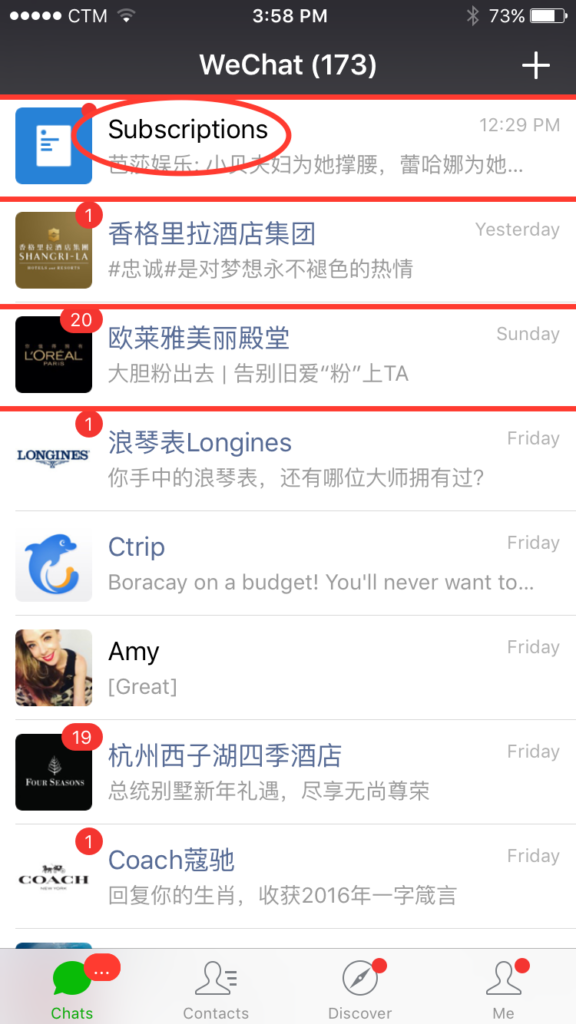 Source: GrizzlyPanda
How to Create a WeChat Official Account
In order to open a WeChat Store you need a WeChat official account. What is more, you must couple your verified account to WeChat payment platforms in order to open an in-app store.
To put it simply, there are 3 options to create a WeChat official account:
1. Registering using your overseas business license (special application process).
This process will take between 2 and 3 months and only companies from Hong Kong, Macau, Taiwan, Japan, Singapore, South Korea, Thailand, France, the U.K., the U.S., Canada, New Zealand, Malaysia*, Germany*, Italy*, Vietnam*, Finland*, the UAE*, Indonesia*, Cambodia*, the Netherlands*, Philippines*, and Russia* can sign up. Where the countries with an asterix must invest USD in WeChat advertising.
2. Apply for a Chinese business license – register using your Chinese license.
First you must register as a foreign entity in China and open a public bank account linked to your business license. Having a Chinese WeChat official account will lead to greater functionality but it is a costly and time-consuming process.
3. Use a third-party license to create an official account.
Via this option, your account will display your name, description, and logo. However, it will be linked to the legal entity which created the account. This is the quickest option to establish your WeChat official account, but Chinese consumers might be wary your account is not linked to the official coupled business license.
Which Option Suits You?
Comparatively, opening up a WeChat store via a service account gives brands a lot of creative space to play and interact with their customers. Furthermore, customer behavioral data is easily accessible and shared with official account holders, creating high potential for customer relationship management.
On the other hand, the mini program is effectively an app inside another app. As a result you will no longer have to download new apps, making it a strong alternative for H5 and mobile applications.
How Can We Help?
Firstly, you may be inclined to use our service to build your H5 online shop. Having an eCommerce shop with H5 allows flexible design and layout. Additionally, these platforms often provide an improved navigation experience then linking your stand-alone website or third-party platform to your WeChat official account. On the right you may observe an example of an eCommerce shop developed with H5 by our personal development team. Through our own development we are able to provide features like WeChat auto login, WeChat integration, custom user interface design, multi-language stores and differing campaign stores, an optimised check-out system, SMS and WeChat transactional messaging, payment integration, and our special platform designed for advanced eCommerce analytics (see image below).
Secondly, we would like to take a look at the option of developing your mini program. Mini programs are fairly similar to H5 eCommerce shops in terms of capabilities and strategy, however, some key strengths is the faster loading speed and data can be stored within WeChat's ecosystem (see an example of a mini program below). Also thanks to mini programs it has become possible to insert hyperlinks in the content of your moments, allowing businesses to promote their brands even more.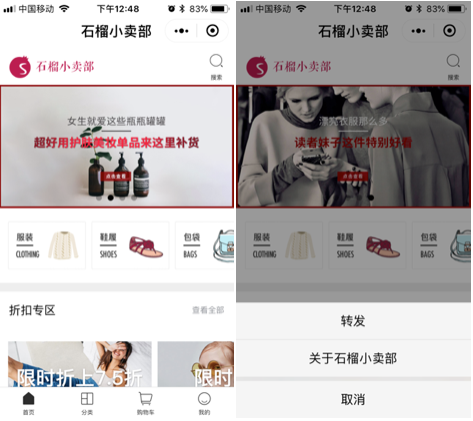 We will also briefly give some of our own insights into the key differences between H5 shops and mini programs. Firstly, as mini programs are fully integrated within the WeChat ecosystem, loading time is optimised and the number of clicks between product and payment is faster. Moreover, mini programs can be found in 7 different ways, whilst H5 eCommerce shops can be found in 4 ways. On the downside, the development time and cost of mini programs might be slightly higher comparatively. Another disadvantage is the inability to run PPC campaigns linked to a website while using a WeChat mini program. Additionally, mini programs are only compatible with WeChat Pay, whereas H5 eCommerce platforms may support other options. Finally, mini program creation relies on Tencent approval and therefore might require more paper- and administrative work.
Feel free to take a look at our WeChat solutions and how we can assist with WeChat Store DevelopmentWeChat store development will smooth your transition from offline to eCommerce. We will develop an unique WeChat eCommerce tailored to your requirements.developing your WeChat store.