Magento may be the most powerful and stable eCommerce platform now in the world. In the meantime, China is the world's largest and fastest-growing eCommerce market.
A perfect fit for each other? Here is the bitter truth: there is more than a slight learning curve for Magento in China eCommerce world.
The main conflict is: China eCommerce is different from user behavior to payment options, while Magento fails to deliver China-specific features to meet the local needs.
"Lack of localization is the biggest problem to enter Chinese market… It's more than just about language." 

– Dominiek Pouwer, Director of TMO Group
Our desire to unlock Magento's untapped potential in China has been encouraging us all the way. Based on our knowledge and experiences in China eCommerce and developers' numerous efforts, below are four great things we create for a successful China eCommerce entry using Magento.
1.Mobile Centric
Of all the eCommerce websites in the Western world, user identification is email-based: User uses the email address to register an account and get a notification (e.g. Order info, payment process, promotion) through email. However, Chinese online users don't use the email that often. Therefore, sending email notifications to your Chinese customers will most definitely result in a low open rate.
The alternative we find for your Magento eCommerce in China is the mobile phone number. We believe that in China, mobile messaging has always been more direct and more effective communication medium than email. By sending a verification code via SMS, the user will feel more secured on the registration process. Since then, your customers are guaranteed to get the message.
2. WeChat Integration
To integrate social media to eCommerce will help increase engagement and drive added value. Right now, WeChat is China's most popular social platform with 846 million monthly active users, and our WeChat integration within the Magento platform brings your Chinese shopper closer:
WeChat login

– allowing your users to access your Magento eCommerce sites using their existing WeChat IDs. Other than reducing registration friction, it also helps your eCommerce business access user data based on their WeChat profiles: WeChat name, profile picture, country, region, city, gender, etc.

WeChat messaging 

– to send messages (promotional message/order status/survey) directly through the WeChat after customer follows your WeChat account.

Account binding

– if your customer register with mobile-first but later login with WeChat, the system will detect this and bind two account info together (mobile phone and WeChat account). This will guarantee one single account with each customer, and keep them more transparent.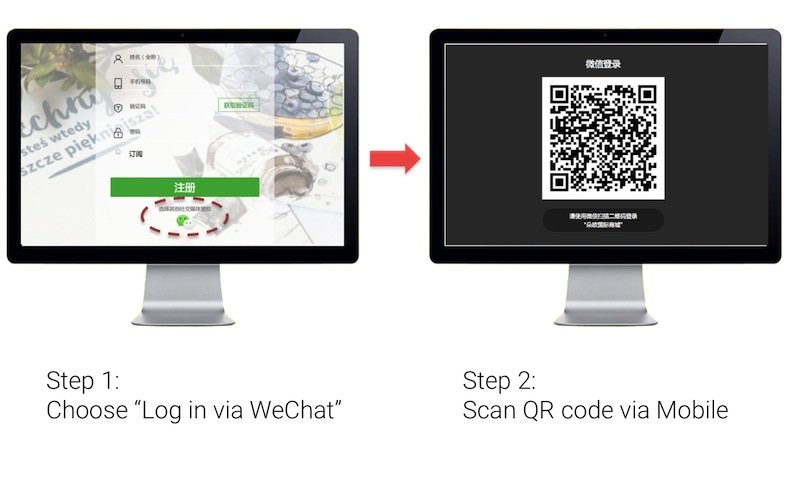 3.Payment Upgrade
When it comes to eCommerce payment, most Western sites offer three options: credit cards, debit cards and online payment services like PayPal. Meanwhile, in China, Alipay and WeChat Pay – two of the online payment giants dominate the online payment option. Both of them developed the QR code payment function, which has been widely embraced by Chinese online customers.
Magento itself does not provide any China-specific payment options, but we filled in the void: Chinese customer can choose between Alipay and WeChat to close the deal by default, plus merchants can add more Chinese payment options like Union Pay, MiPay, Baidu Wallet.
What's more, the Chinese payment upgrade will take good care of the cross-device customer journey. When a customer checks out through desktop, a specific QR code will appear on one's screen. Scan it with a mobile phone and payment will be complete. When a customer is browsing your eCommerce on mobile, the "payment" button will drive a customer to WeChat Pay/Ali Pay mobile app to finish the payment.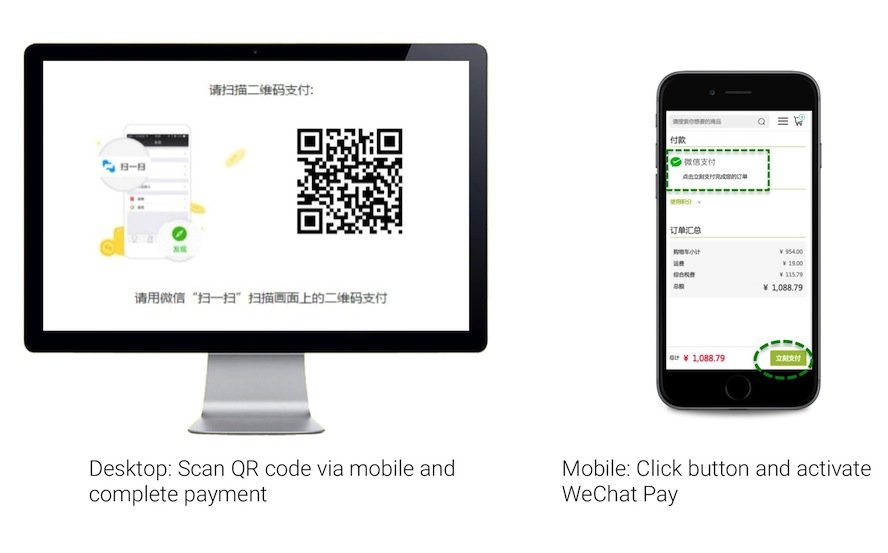 4. Localized Checkout flow
A great checkout process must be fast, easy and distraction-free. Since China's eCommerce world is different and unique, just copying and pasting the default checkout workflow to China market is never a good idea.
Based on China's culture difference and consumer behavior, here are a few China-specific features we develop to help localize your Magento eCommerce in China:
No billing address.

Credit/Debit card payment is rarely used, therefore no need for billing address during checkout.

Full Name in one field instead of first name/Last name.

Because Chinese names are different in format with Western names, using full name in one filed is more convenient.

Chinese address formatting.

Rather than Address – City – State – Zip Code format, Chinese address follows an order of Province – City – District – detailed address. Not only did we implement Chinese address formatting in Magento, but also we created address filter, letting customers choose their province/city/district (rather than typing it).

ID Check.

This is a must-need if you plan to run a cross border eCommerce platform in China. Since China eCommerce shoppers are requested to validate their 18-digit Chinese ID number to complete checkout for cross border products, we generate ID checkbox feature to let Chinese customers continue the checkout process.

Product review with pictures. 

Chinese customers reply to product reviews a lot, so we enable product reviews with pictures in Magento.
Shipping status check.

Allowing

shopper to track their shipping status. We integrate Magento with reliable logistics platform in China to make sure tracking information is always updated when customer logs in to his/her account.

Chinese characters.

Magento itself doesn't support Chinese characters in the back-end when you want to export orders/invoices/shipment labels, and we made it possible.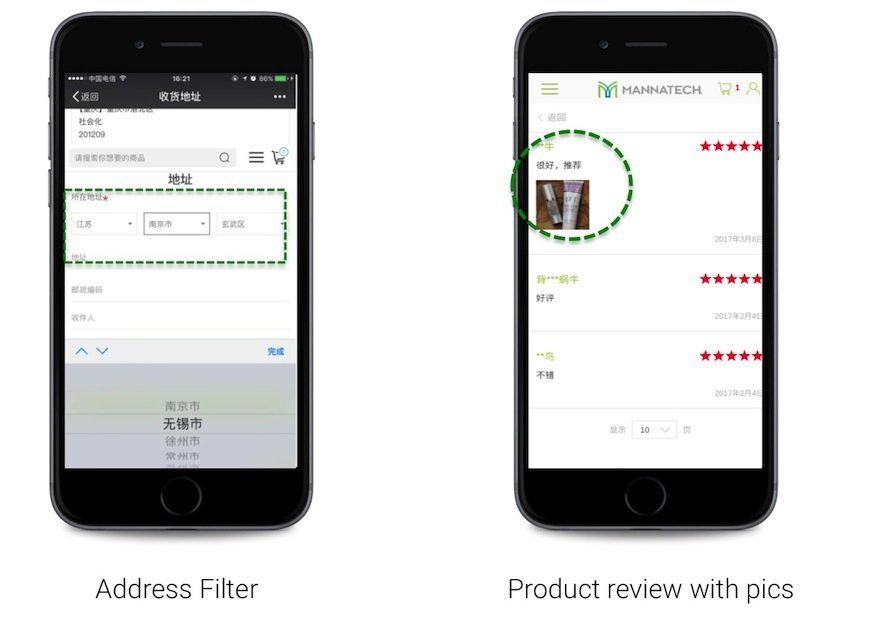 TMO Group will help you localize
China eCommerce is brutal: Your eCommerce business may be performing exceptionally well at home, but more difficulties may appear in this new market.
With our affluent knowledge of China market and Magento 2.0, we offer you the fast and most suitable China market eCommerce solution. From China-specific UI/UX design to China payment getaway, from China cloud infrastructure to Chinese logistics tracking, we help you meet the local market needs.
Click Contact Us to know more about our China eCommerce solutions!
* since April 2021 Magento is also known as Adobe Commerce