Philippines. eCommerce Sales Estimates (July 2023)
Get ready to uncover the latest insights into the Philippines' eCommerce market with TMO group's "Philippines eCommerce sales estimates". This data pack contains data on SKUs, sales volumes, and revenue for major product groups sold on Lazada and Shopee in the Philippines. Be the first to know the sales trends for July 2023 and stay ahead of the competition.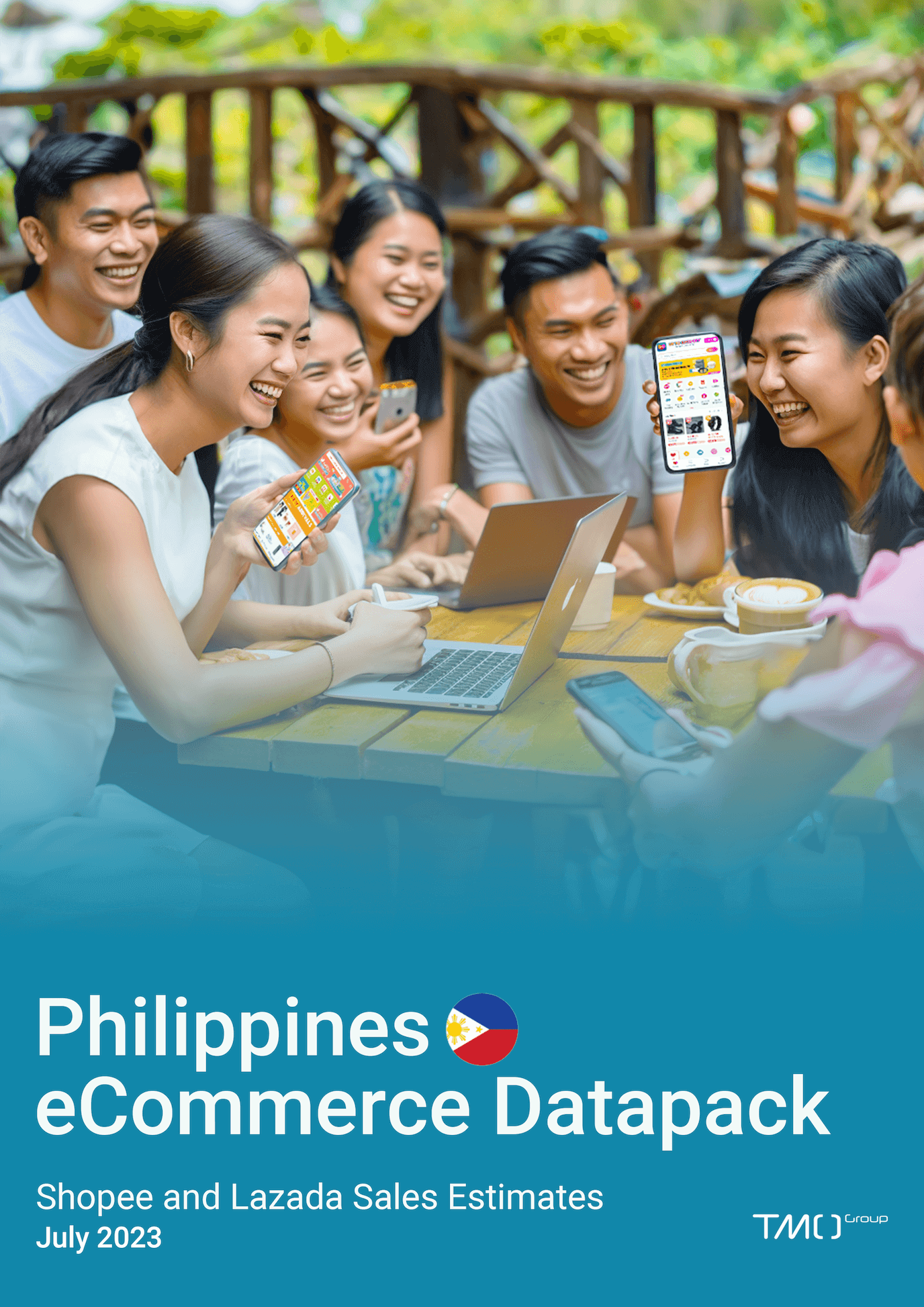 Philippines Market
The Philippines is one of the emerging economies in Southeast Asia, and its e-commerce sector is developing rapidly, particularly since the COVID-19 pandemic. The country's online shopping demand has grown significantly. According to the Philippine Department of Trade and Industry (DTI), e-commerce increased the country's GDP by 3.4% or US$12 billion in 2020. The number of new e-commerce companies in the Philippines increased from 500,000 in 2020 to over 1,000,000 in 2022. According to Statista's forecast, e-commerce in the Philippines will reach $38 billion in 2027. 
In July 2023, Shopee and Lazada's combined sales in the Philippines exceeded $840 million. Below, TMO will take you to interpret the sales data in the Phlippines.
July Highlights:
Shopee and Lazada had a similar market share in the Philippines in July 2023. Shopee's sales in the Philippines reached $400 million USD, showing a month-on-month increase of 15%. Meanwhile, Lazada's sales reached $440 million USD, with a month-on-month increase of 25%.
In terms of categories, the most popular ones on both Shopee and Lazada platforms were electronics and home appliances. These categories generated a total sales value of approximately $300 million USD and a total sales volume of about 29.72 million.
When it comes to best-selling products, cordless vacuum cleaners and hair styling appliances from Dyson, and smart projectors from LUMOS dominated the sales rankings in their respective categories.
Please download the report to explore more exciting content!
What is in this datapack
In the datapack we provide our estimates of the Shopee and Lazada sales in July 2023 (separate file for each platform) for Philippines market, broken down by product categories.
We provide such numbers as total SKUs with sales, number of sales, revenue (both in local currency and in USD), distribution of sales by the price range of items. Where relevant, we show internal categories of product groups.
We list top 5 products (by revenue) in each category, their price, sales volume, name and picture.
Notification of Update
Starting from February 2023, TMO no longer releases monthly South East Asia eCommerce sales estimates of the six Southeast Asian countries. Instead, we will refer to Shopee and Lazada's marketing calendars to collect and publish sales estimates for the selected country each month. To enhance readers' understanding of the top products, we will also translate the parts containing local languages into English.
The country plan for 2023 is as follows: Thailand for February issue, Malaysia for March issue, Vietnam for April issue, Indonesia for May issue, Singapore for June issue, the Philippines for July issue, Vietnam for August issue, Thailand for September issue, Malaysia for October issue, Singapore for November issue, and the Philippines for December issue.
At the same time, we will delve into various industries, continuously releasing industry outlooks to meet readers' needs for focused attention on specific industries. In December 2022, TMO already published the first issue of Southeast Asia Cosmetics and Makeup Market Outlook. Furthermore, TMO will be introducing additional industry outlooks to furnish readers with comprehensive insights into segmented market trends, enabling them to make informed business decisions. Stay tuned!
If you are looking to dive deeper into Southeast Asia's eCommerce market, look no further than our expert team! With our thorough research and analysis, you'll gain a deep understanding of your niche, including market structure, size, and emerging trends. We'll also provide invaluable insights on price ranges, top-selling items, and popular brands to help you stay ahead of the competition.
Get in touch today to learn more about how we can help you unlock the full potential of Southeast Asia's eCommerce market!