From 1997 to 2017, everyone is witnessing another 'Great Leap Forward' of the Internet in China. It is reshaping the entire eCommerce and marketing ecosystem including channels, advertisement, and products; as well as re-shaping the lifestyle and habits of consumers. No matter you are new comers or experienced practitioners of the China eCommerce, you should have an idea for the following background.
Size of the Internet users: 1/5 of the total Internet users worldwide
Internet users in China were exceeding 0.75 billion in June 2017 while which in the world were around 3.7 billion (Internet World Stats, 2017). While Internet penetration is 54.3%, exceeding the world average by 4.6%. Social integration with the Internet is at a fast pace.
No. of Internet Users and Penetration Rate
Internet Sectors Highlights
We should highlight a few common Internet sections well penetrate among Chinese: Instant Communication, online payment and online shopping.
Internet Sector Highlights
Total users of instant communication applications including WeChat and QQ was exceeding 0.69 billion in June 2016, where 0.66 billion users are using mobile devices. Percentage growth for 6 months accounted for 3.8%. We can see that the market potential for the online communication channel is extremely huge, at the same time too competitive due to the overflow of message volume and difficulty in the accurate targeting of customers.
No. of People Using Instant Communication Applications
As at June 2017, more than 0.5 billion Chinese were using online payment and the half year percentage growth was 7.7%. Mobile payment accounted for 69.4%, exceeding half billion people. With increasing online shopping opportunity and more offline field supporting mobile payment such as supermarket and convenience stores, online payment will keep growing.
No. of People Using Online / Mobile Payment
As at June 2017, more than 0.5 billion Chinese were shopping online and the half year percentage growth was 10.2%. Online shopping via mobile devices accounted for 66.4%, equal to 0.48 billion people.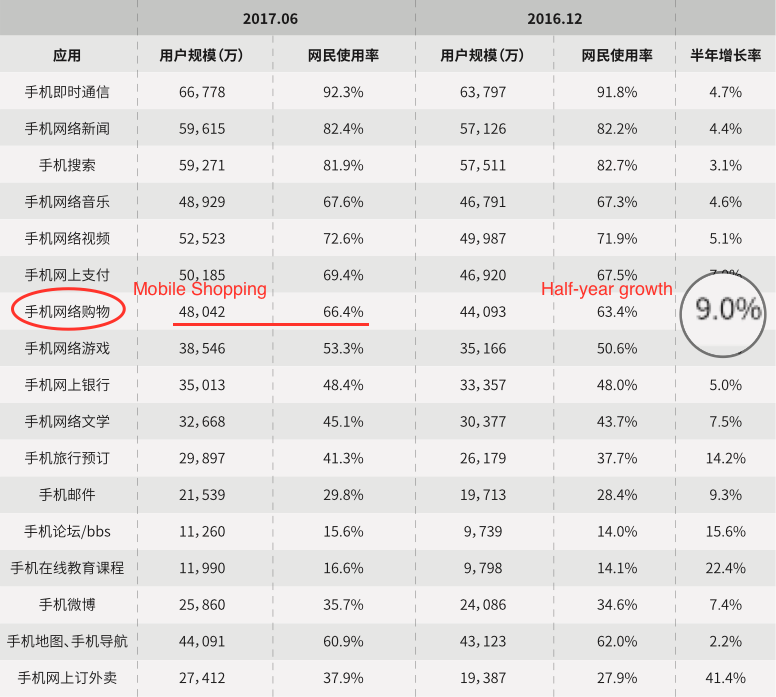 Mobile Shopping: No. of users / Penetration rate / Half-year % Growth
No doubt, I will be quite positive about the data on the next quarter report.
Data Source: 40th China Statistical Report on Internet Development, CNNIC