Which brand or which shopping scenario will you think of when we talk about WeChat eCommerce? It will not be an easy question. We believe that recognition is not yet well-established by digital consumers for any brands or any online shopping categories for the WeChat shop.
On the T-mall, we may go to buy clothes or visit different brands; on the JD Mall, we may go to purchase electric and digital products; on the VIP, we may choose some cosmetics; finally, on Xiaohongshu, we may get some cross-border goods.
How to position the WeChat store?
As a WeChat eCommerce platform, what can the brand sell and what can the consumers purchase? There are 900 million WeChat users and no brands would like to waste the market potential. However, social information within the WeChat has already been overflown and thus there is hard to have a fix and explicit shopping scenario impressing the consumer. What can the brands do to position themselves and what tricks can be played with setting up the WeChat store?
WeChat undoubtedly is a social and communication channel between people and the brands. Brand should operate well their WeChat channel before setting up the eCommerce platform. Acquiring fans and stickiness of supporters will be the first priority than opening the online store. Loyalty fans will bring natural conversion to your WeChat shop.
Hermes WeChat Pop-up Store
Hermes was testing the China market with a pop-up WeChat store. This October to November, she sold the Apple Watch Hermès collaborative Series 3, with the theme of 'Pay tribute to classic scarf'. The printed pattern on the handcrafted band was based on a classic Hermes scarf design and there were 6 styles for customers to choose. The watch cost RMB 10,000 and payment defaulted to WeChat Pay.
HERMES Store UI
WeChat pop-up store is such like those offline pop-up stores, creating a marketing and eye-catching atmosphere for consumers and the media. For example, Chanel opened a pop-up Coco Cafe in Shanghai in April this year and caught much attention in China.
The pop-up store is a perfect marketing opportunity for brands to make a connection with new customers and entice them to continue to keep the linkage online. With traditional retail sales descending, online stores and pop-ups offer a great opportunity for brands to expose further, or even completing a mission of online-to-offline (O2O) marketing – from WeChat account and online stores to showrooms, dressing rooms, and in-store customer support staff. Let's see how Vacheron Constantin played with this.
Vacheron Constantin limited edition reserved on WeChat
A WeChat post of Vacheron Constantin linked to an HTML5 web page. Readers might pay RMB 10,000 via WeChat to reserve the limited edition.
In the following month, customers could reserve a time and 'touch' the watch at the offline stores in Beijing, Shanghai or Shenyang to decide whether to buy it. Vacheron Constantin will also arrange the pick-up of the customer with a luxury car in the city.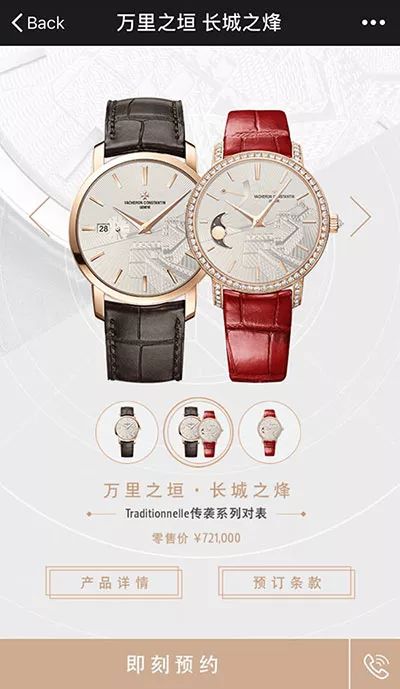 Reservation Page
It looks like online shopping. Yet, customers needed to try on and picked up the watch in the offline store. Vacheron Constantin played with an O2O campaign of reserving the watch online and picking up offline, without damaging the premium and luxury customer experience.
WeChat Mini-program and 'eCommerce KOL'
WeChat Mini Program has launched for 1 year. It revealed the opportunity of eCommerce and after two big days of 'Black Friday' and 'Double Eleven', there is good news from the WeChat mini program eCommerce.
According to the WeChat mini program eCommerce platform 'LOOK', she co-marketed with around 20 WeChat mini program stores on the Black Friday. Total turnover exceeded RMB 10 million. Those WeChat accounts promoted the activity with a WeChat article and interact with the WeChat mini program store.
LOOK WeChat mini program store partner with gogoboi、石榴婆报告、商务范、爸妈营…to launch to Black Friday campaign.
On 1 November, 'WeChat Double 11' campaign was online. More than 10 thousand orders were achieved in the first hour; on 3 November, it becomes the first WeChat public account achieving 1 million sales; on 6 November, the sales on that day of  '微裙子', 'In风尚' and '瑞丽网' exceeded total sales of October.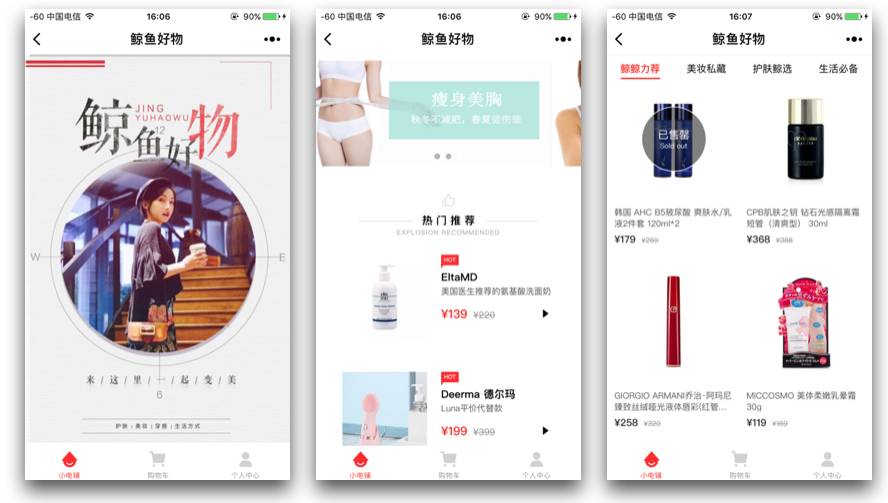 '鲸鱼颜习会' WeChat Mini program store
鲸鱼颜习社, a WeChat Public Account about skin care, cosmetic, fashion, and lifestyle. It gets a mini-program '鲸鱼好物' selling different products and marketed with the WeChat articles. UI design is flat and simple. Economical products are also another reason gathering a lot of fans.
We are witnessing the evolving trend of social media to generate income. A few years ago, self-media or 'Big-V' blogger looked for advertising income. 'KOL eCommerce' evolved when KOLs recommended their fans to buy this and that e.g. 黎贝卡 sold 100 MINI Cooper. When social media and KOL starts up their WeChat eCommerce stores, we will see if it will be another successful miracle in China.
Collaborating with WeChat blogger will be another direction for brands which would like to test the WeChat eCommerce market. Givenchy collaborated with fashion KOL Gogoboi who launched a WeChat mini program eCommerce store '不大精选'. Givenchy was the first luxury brand to launch a new product 'Duetto' in WeChat store and the collection sold out in 72 hours.