China eCommerce Market Localisation Guide
A comprehensive guide on how to start in the biggest eCommerce market in the world. This handbook covers 110 pages on China market localisation providing a comprehensive and in-depth overview on key areas, industry insights and market data for companies to successfully set-up and operate their eCommerce business.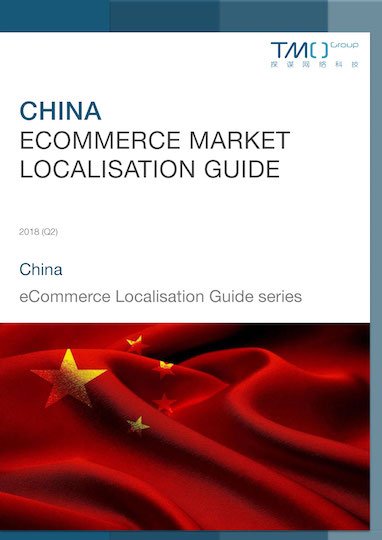 With a growing middle class and an internet- and mobile phone penetration rate of 92% and 96% respectively, China is a particularly lucrative market. Mobile might be characterised as the single most significant contributor to the growth of eCommerce in the country. As the world's second largest economy and most populous nation, China offers foreign companies seemingly endless potential. Capitalising on this potential is however not easy.
In order to support companies with their eCommerce development for China, we published the China eCommerce Market Localisation Guide.
Who should read this guide?
The China eCommerce Market Localisation Guide is the handbook for business owners, C-level executives, marketeers and eCommerce specialists covering an extensive series of business topics, industry insights, latest available market data and hands-on insider information. We provide you with a complete overview and strategic direction in starting your eCommerce Business.
The guide is not only suitable for business owners and C-level executives but also provides topics for eCommerce operators and marketing specialists.
Features (USP's)
Our team of eCommerce market researchers and experts cover different topics from the economic outlook on China and eCommerce business models to the legal framework, sales channels, payment methods, social media and marketing.
A full blueprint of China's national and cross-border eCommerce ecosystem

Latest statistics and market data available in Q2 2018

Hands-on eCommerce experience gathered from multiple experts

Covers 40+ eCommerce topics from eCommerce models to taxations and marketing strategies

20+ of China's largest sales channels analysed

20+ logistics and cross-border hubs included

All major China eCommerce and logistics models mapped out

Complementary guides available on in-depth legal and store localisation
We provide answers to
What is the market potential for my business in China?
What type of eCommerce model should I follow?
Which legal implications will I face when entering the market?
Which legal entity suits my eCommerce model the best?
How do product category and eCommerce model affect your taxations?
Which sales channel options are available given your product and eCommerce model?
What entry model and budget allocation would most fit your strategy?
How to protect your Intellectual Property (IP) before selling in China?
Which media and marketing strategies can be adopted?
About eCommerce Localisation Guide series
TMO Group publishes an extensive series of eCommerce Localisation Guides. Covering general, legal and store-level localisation topics, these handbooks provide key market and hands-on information on how to localise your eBusiness per country. We currently cover the following markets in our series: China and Italy. This series is continuously expanding and soon to be published are Germany and France.
The guides are based on our aggregated 20+ years of experience and composed by our dedicated team of eCommerce market researchers. This all-inclusive complementary series of guides will help you find your way through the eCommerce jungle. Be sure to check out our complete series of guides which cover: (A) eCommerce Market Localisation, (B) eCommerce Store Localisation and (C) eCommerce Legal Localisation.
FAQ
Q1: How can I get a copy of this eCommerce Market Localisation Guide?
A1: Just click on the 'download now' button and fill out your business details on the next page. You can then pay directly via PayPal. Once your payment is confirmed, we will send you a dedicated download link for your copy of the guide in PDF format.
Q2: What is the difference between the starter's guide and the in-depth guide?
A2: All our guides are based on TMO Group's aggregated 20+ years of experience and composed by our dedicated team of eCommerce market researchers. However, the in-depth guide offers many more insights and detailed information than the starter's guide.
Q3: Which payment methods are currently available to purchase a guide?
A3: At the moment we only support PayPal payments. However, in the near future this will be expanded to include other popular methods such as WeChat Pay and Alipay.
Q4: I filled out my (personal) email address, why did I not receive a download link?
A4: Please make sure you are not using a gmail, hotmail or any other general email account. To receive a download link, you need to use a business email address.
Q5: What should I do if I have not received my email or my payment failed?
A5: If you encounter any problems throughout the ordering process, get in touch with us. You can reach us through our online customer service. Alternatively, you can send an email to info@tmogroup.asia or give us a call at +86 (0)21 617 00 396.
Q6: If my payment was successful, can I receive an invoice?
A6: TMO Group can provide an invoice for purchase of the guides. If you need an invoice, please send a request by email to info@tmogroup.asia or give us a call at +86 (0)21 617 00 396. We will need your detailed information for the invoice and can send it to you within 10 working days.