FACT1. CHINA IS GOING TO BECOME THE WORLD'S LARGESTE – ECOMMERCE MARKETING 2013
China became the world's largest consumer of luxury goods in 2012. Likewise, the nation will surpass the US to become the number one eCommerce market by market size later this year.
Retail eCommerce sales reached RMB 1300 billion (about USD $209 billion) in 2012, accounting for 6.1% of China's total retail sales. The Chinese government views the development of eCommerce as critical to future economic growth. It supports ongoing improvements to China's online shopping  ecosystem,  including development of online payment safety and logistics capacity. China's eCommerce market  will  continue  to  grow  at  double- digit rates over the next 3 years.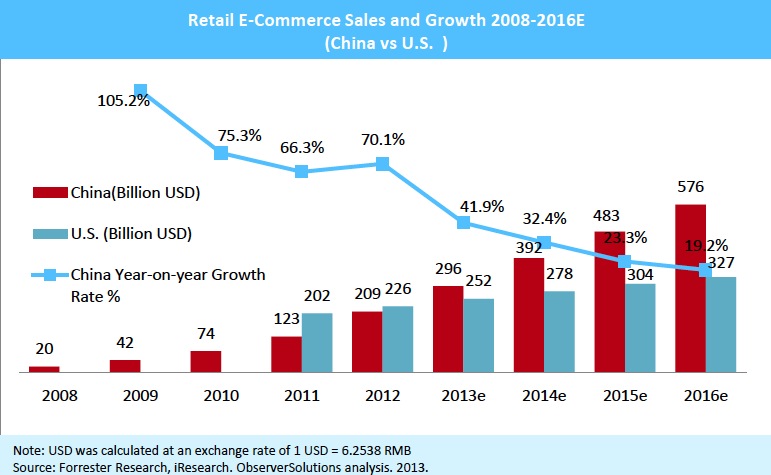 FACT 2 .  ONE IN EVERY FIVE CHINESE CONSUMERS IS AN ONLINE SHOPPER
China already leads the world in online shoppers with 242 million—equivalent  to  roughly 73% of the US population. This consumer population will continue  to  increase  rapidly  in conjunction   with   the   overall increase   in    Chinese    internet users.
eCommerce  has already changed the traditional retail industry in China and the ways consumers  prefer  to  shop. Luxury brands and retailers should consider eCommerce a vital component of their China expansion plans.
In 2012,  the average Chinese online consumer spent RMB 5,203, an increase of 25% over 2011. Average frequency of online purchases also increased dramatically, to 18 purchases every 6 months in 2012 from 3.5 in 2011.
FACT 3 .  CHINESE CONSUMERS ARE WILLING TO MAKE BIG – TICKET PURCHASES ONLINE
Many luxury brands believe that Chinese consumers are not willing to purchase big-ticket items online. This is only partially true. Consumer habits are evolving quickly as more and more Chinese people adapt to online shopping. Additionally, major e-retailors have finally surmounted traditional barriers to eConsumer trust, and now provide protections such as secure payment and after- sales service guarantees.
Chinese consumers have already demonstrated their willingness to make big-ticket purchases online. Thus, luxury eCommerce has significant growth potential.
Chinese consumers have already demonstrated their willingness to make big-ticket purchases online.
On February 20th 2012, Chinese e-tailor JD.com (originally 360buy.com) partnered with Smart to launch an exclusive online flash sale for 300 limited edition Smart cars. The sale started at 10:00 a.m. By 11:29 a.m., all 300 Smart cars had been sold at a price of RMB 149,888 each, a rate of one every 20 seconds.
This was not the first eCommerce success for China's automotive industry. Online retailer Taobao has been successfully selling cars since 2010. Its website Tmall (Taobao mall) currently hosts flagship stores for nine auto brands, including Cadillac, Buick and Chevrolet.
Via: ObserverSolutions