China Health Supplements Market Data Pack October 2021
Each month, TMO Group compiles data from Alibaba's family of eCommerce platforms (including Taobao, Tmall, Tmall Global, and Tmall Supermarket) regarding sales of health supplements both domestically and across borders. This data is presented in a form that's easier for English-speaking overseas companies and individuals to approach, with an array of charts and tables as well as translated terms.
This data pack covers data compiled from October 2021.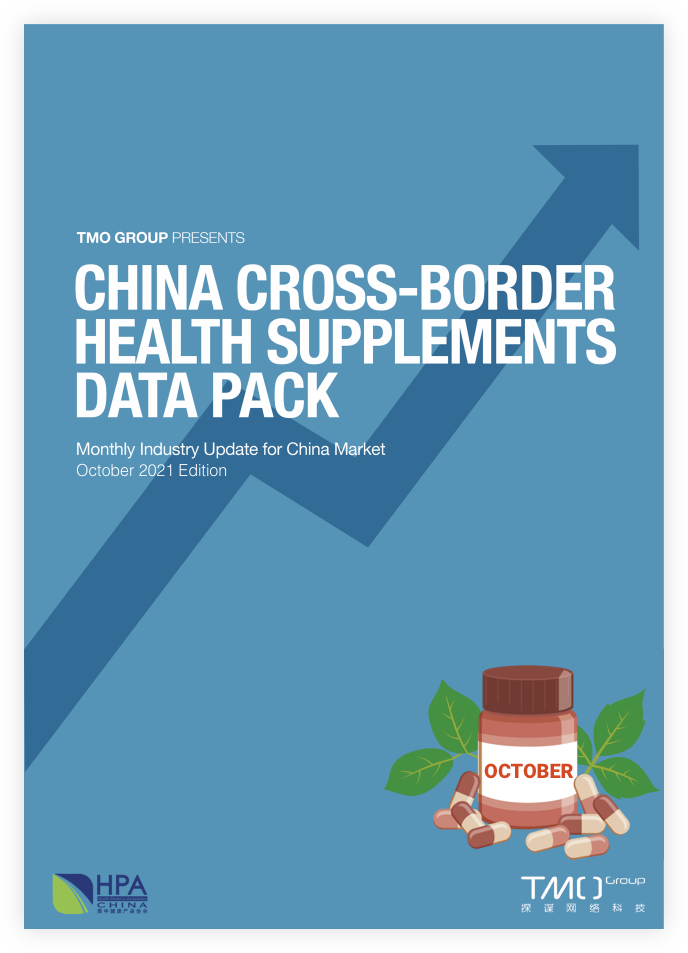 Updated category structure
It's been just over a year and half since the outbreak of the COVID pandemic in March 2020, which was also the time when TMO launched the first edition of the China Cross-Border Health Supplements Data Pack. As a consequence of the pandemic, the consumption of health products has seen a large upswing.
Products that can enhance immunity, replenish physical strength are no longer popular just among the older generation, the younger generation are also flocking to them in their droves. The products with beautifying effects are popular among them.
As these consumer behaviors have become more popular, we have observed changes in the structure of product data from Taobao's family of eCommerce platforms (including Taobao, Tmall, Tmall Global, and Tmall Supermarket). If previously classification was ingredient-based (such as Vitamin A,B,C), it has now shifted to a consumer-centered one, reflecting usage scenarios. For example, Vitamin C is now classified as immunity boosting supplements, and Vitamin K is classified as a supplement for bone and joint health.
We believe these changes come from platforms' pursuit to improve user experience, cater to customers' needs. On a platform like TMall, users mainly rely on website search to find the products. As most of the ingredients are names of specific medical substances and elements – ordinary users are not likely to remember or use them. Conversely, organizing a catalogue based on users' needs can trigger deeper and more meaningful interaction with the website, increasing the chance of successful purchase and future repurchase.
Going forward, we will adopt a similar approach to analysing the health supplements data. We are sure it will eventually lead to a more profound understanding of the market, its trends and customers' behavior and purchasing habits.
October 2021 highlights
Similarly to the previous month, beauty and heart health supplements are the two leading categories by sales revenue.
This month's first, second and third products are all new items from Newskin. Imported from South Korea, these "dark horses" collectively generated over 90 million of revenue this month. First two are collagen based beauty supplements with unit prices 15000 and 14981 yuan. Third product is a muscle drink that costs 4800 per unit. We will continue to monitor these products and their remarkable success.
Fourth and fifth products with highest revenue this month both are male potency supplements from brands AN and Esmond.
Generally there is no shortage for products aimed at women's beauty and men's rejuvenation on the market. However, it remains to be seen if this spike in interest in such products is the new lasting trend or a fad that will be over soon.
Some notable brands that used to focus on offline direct sales: such as Perfect (完美),Herbal life (康宝莱) and Jeunesse (婕斯) are gradually entering eCommerce space with notably good results. There is little doubt that digitalization will help them to expand by understanding and meeting the demand from younger user groups, as well as widening the reach to their existing customers.
Who are these data packs intended for?
These data packs are designed to assist researchers, data analysts, product development professionals, business decision makers, and anyone involved in strategic planning at overseas health supplements companies, or entities and individuals interested in this area. By keeping up with each month's shifts in sales and consumer behavior, such experts can get a more firm grip on the trends and shifting attitudes in China's growing and increasingly competitive health supplements market.
This data pack includes:
Case studies on each of the top five brands during October
Analysis of the month's trends and biggest winners
The month's best-selling products
Sub-category market share
Market share by price range
Top search keywords
Most popular brands
Best-selling product characteristics
Best-selling products in each sub-category
And more!
Download this month's data pack today!
As well as our monthly data packs, we also put together a comprehensive guide to the health supplements industry in China, updated annually and available absolutely free right here.