China Health Supplements Market Data Pack - August 2022 PREMIUM
Each month, TMO Group compiles data from Alibaba's family of eCommerce platforms (including Taobao, Tmall, Tmall Global, and Tmall Supermarket) regarding sales of health supplements both domestically and across borders. This data is presented in a form that's easier for English-speaking overseas companies and individuals to approach, with an array of charts and tables as well as translated terms.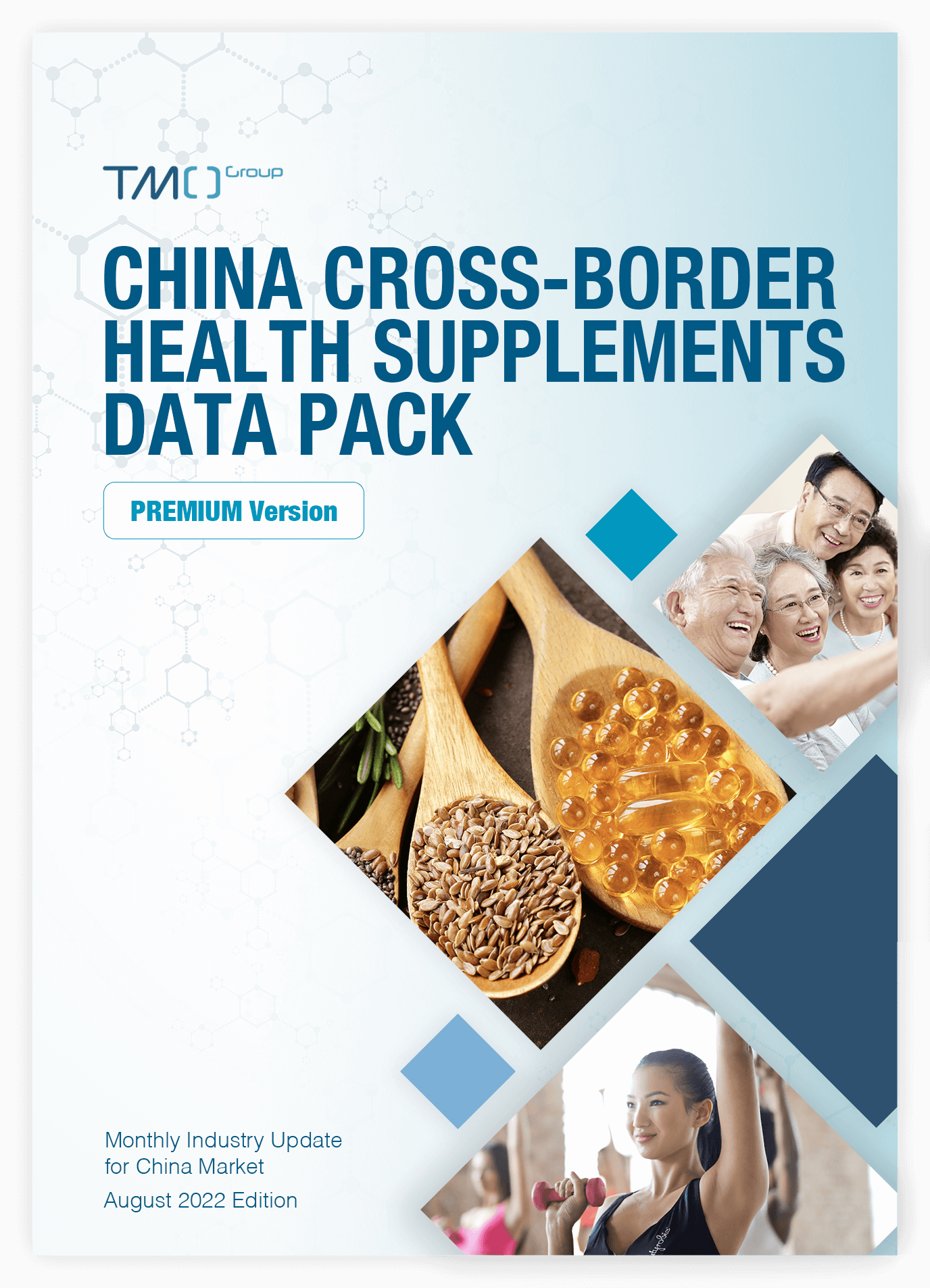 After the 6.18 promotion, sales in July and August naturally declined. However, some areas in China were still affected by the pandemic, with occasional outbreaks in some communities leading to lockdowns. Consequently, most people still tend to take their health conditions seriously, and purchasing health supplements is one of the actions taken. To know more, download our monthly data pack for August 2022!
August 2022 highlights
Overall, the health supplements market in August declined compared to June/July, with sales of about 2.1 billion yuan, but the increase in the number of SKUs was the largest in recent months. Among them, the prices of products are mostly distributed between 100-400 yuan and 1000-4000 yuan. The top five best-selling products in sales volume are all from Swisse, with prices mainly distributed between 200-400 yuan.
In terms of brand, Sheyang performed well this month. Not only did 5 products of the brand get on the top 15 best-selling list, but it also surpassed Esmond in the sales revenue ranking, reaching second place. Dongyangu is also improving in its performance, with freckle removal tablets occupying the top of the best-selling product list this month. At the same time, Dongyangu got its place in the top 10 brand list.
With the rising of many niche brands, Swisse is still the most purchased brand by consumers, Its sales far exceed the brand in the second place, and it dominates the top five best-selling products. Its calcium tablets and liver protection tablets are the first choice of many entry-level consumers of health supplement products.
Why premium version?
Starting from November 2021's monthly report, TMO has launched a new upgraded premium version, and more valuable additional content is waiting for you to unlock! The paid premium monthly report contains richer industry information. In addition, source data excel sheets with comprehensive industry information are attached for your reference:
Additional report content:
Detailed sub-category market information

Want to dive into the market size and structure of the 22 sub-categories? Curious about their price distribution and top products? If you want to explore which categories have the most market potential, please download and check it out!
Report source data (Excel sheets):
We provide you with 50+ data sheets, detailed information of 22 sub-categories in total, and each sub-category contains information for up to 100 products.
The source data covers all of the industry key metrics, including:
Sales Revenue & Volume: for the whole market and each sub-category, also the data over time
Stores and Brands information: including list of top stores and brands with comprehensive data
Top SKUs details: covers the details of monthly top products and fast-growing products as well as top SKUs for each sub-category, including product related links with which you can check the products directly.
Product Price Range: for the whole market and each sub-category
There are also other valuable data waiting for you to explore, such as : product pre-sale data, product reviews, store followers, etc.
Of course, if you are still hesitated for the paid version, you can also click here to check the FREE report! Otherwise, you can also choose to download our October 2021 report for free as content reference.
This data pack includes:
Analysis of the month's trends and biggest winners
The month's best-selling products
Sub-category market share
Market share by price range
Most popular brands
Brand price distribution
Best-selling product characteristics
Detailed sub-category market information (* Premium version only)
And more!
Who are these data packs intended for?
These data packs are designed to assist researchers, data analysts, product development professionals, business decision makers, and anyone involved in strategic planning at overseas health supplements companies, or entities and individuals interested in this area. By keeping up with each month's shifts in sales and consumer behavior, such experts can get a more firm grip on the trends and shifting attitudes in China's growing and increasingly competitive health supplements market.
For more information, download this month's data pack today!
As well as our monthly data packs, we also put together a comprehensive guide to the health supplements industry in China, updated annually and available absolutely free right here.
Data upgrade notification:
In order to bring better content to readers, starting from the monthly Datapack in March 2022, TMO has optimized and adjusted the data collection methods used in the report. You will see that while the overall market structure remains unchanged, the sales data have increased to varying degrees compared with previous data packs. This is due to the higher frequency and larger volume of data collection, which effectively improves the aggregated results for the following fields:
Stores

:

Data of more stores has been collected, including new and removed stores within a month.

Online SKUs

:

Data of more SKUs has been collected, including new products and products removed from the shelves within a month.

Sales Volume

:

Due to the collection of more SKU information (including products on and off the shelves within a month), the monthly sales volume data has increased significantly.

Sales Revenue

:

Due to the increase in the number of SKUs and sales volumes, the data of monthly sales revenue has increased significantly; thanks to the higher frequency of collection, the price fluctuations during various promotional activities are fully considered (the price that can be reflected on the product page), which makes the sales revenue more accurate.
*Explanation of data deviations:
Although we have used the optimized collection method, there will still be some data deviations:
Accuracy of sales volume: Since the collection is affected by the rapid removal of some products, the sales volume can still be slightly lower than the actual situation.

Accuracy of sales revenue: The prices collected by multiple products may not reflect the actual average transaction price of the products; information such as platform discounts and store coupons cannot be collected on the public product page.
The overall data accuracy is 90%, and some brands may have large deviations. Please be cautious when using the data.