China Health Supplements Market Data Pack August 2021
Each month, TMO Group compiles data from Alibaba's family of eCommerce platforms (including Taobao, Tmall, Tmall Global, and Tmall Supermarket) regarding sales of health supplements both domestically and across borders. This data is presented in a form that's easier for English-speaking overseas companies and individuals to approach, with an array of charts and tables as well as translated terms. This data pack covers data compiled from August 2021.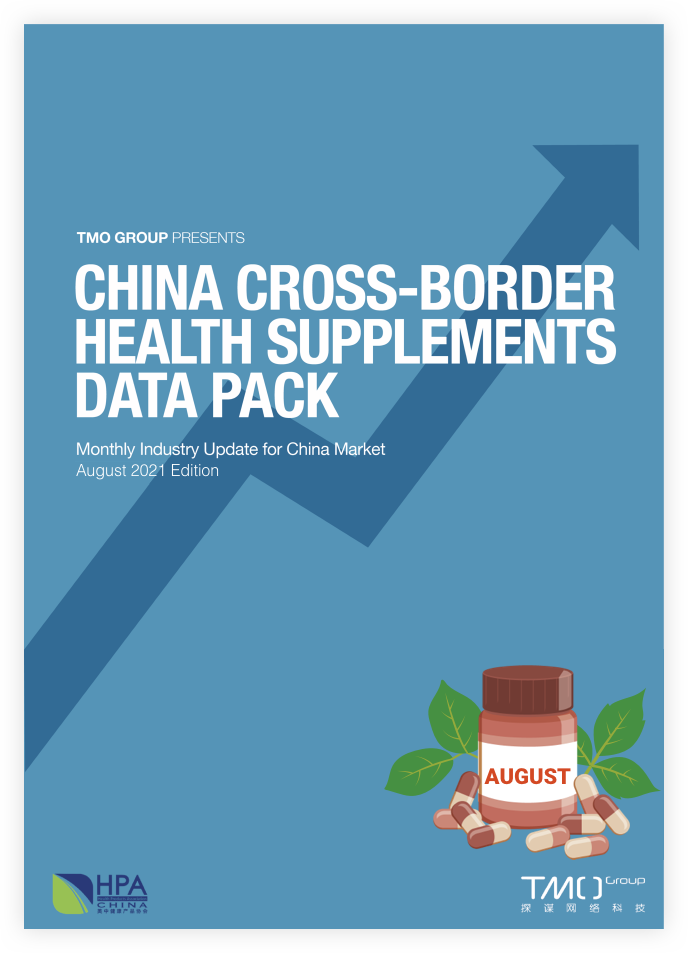 July saw a decline in sales in the health supplements market, after the heady heights of the June 18th shopping festival, one of the biggest days of the shopping calendar in China. Although sales haven't hit them heights again, in August they did see somewhat of a recovery.
This recovery can at least to some extent be put down to two other big consumption days in the Chinese calendar – Tmall Global's 8.8 Sales (August 8- August 10) and Chinese Valentine's Day Sales ( August 12-August 17).
The anti-aging products containing NAD+/ NMN ingredients remain the best seller in August, with 27.9 millions RMB sales revenue.
Also, American Brand Biowell maintained its excellent performance in August. It ranked second top brand by selling 35.7 millions RMB and has surpassed the famous Australian brand Blackmores. 
However, there were some surprises. For example, reproductive health supplements received high attention in the last month. The second top selling item from August is a female reproductive health product and the fourth ranked is a male fertility supplement. 
To see what other surprises there's been in the last month in the health supplements market, check out our August 2021 data pack now!
Who are these data packs intended for?
These data packs are designed to assist researchers, data analysts, product development professionals, business decision makers, and anyone involved in strategic planning at overseas health supplements companies, or entities and individuals interested in this area. By keeping up with each month's shifts in sales and consumer behavior, such experts can get a more firm grip on the trends and shifting attitudes in China's growing and increasingly competitive health supplements market.
This data pack includes:
Case studies on each of the top five brands during August
Analysis of the month's trends and biggest winners
The month's best-selling products
Sub-category market share
Market share by price range
Top search keywords
Most popular brands
Best-selling product characteristics
Best-selling products in each sub-category
And more!
Download this month's data pack today!
As well as our monthly data packs, we also put together a comprehensive guide to the health supplements industry in China, updated annually and available absolutely free right here.