Surviving China's eCommerce landscape isn't easy.
Amazon, ASOS, eBay, Groupon, Coach… through the years we witnessed major global brands spent significant sums yet still failed, and one major reason is: they did not try to understand China eCommerce market, and they failed to deliver the user experiences favored by Chinese online shoppers.
China is the biggest eCommerce market in the world, and it is supported by a highly complex ecosystem found nowhere else. For those who want to enter, the key to success is to understand the unique elements.
In China, the eCommerce ecosystem is made up of the following four components:
Platform
First of all: where do Chinese shoppers buy online?
Right now, the two common options to start your eCommerce in China are: to join eCommerce marketplace, or to build your own brand eCommerce platform. Every marketer should have a clear understanding of each eCommerce platform's infrastructure and capabilities before entering.
a. Marketplace platforms
Among all the business-to-customer (B2C) platforms, Tmall and JD are two frontrunners: during 2016, Tmall far outpaced its competitors with a 56.6% share of retail ecommerce sales, with JD ranked second with a 24.7% share.
However, there are still obvious limitations for eCommerce marketplaces: application isn't easy, which requires strict rules, paperwork, long waiting time and multiple fees. Moreover, similar shopfronts cannot offer all the personalization and customization that your brand wants.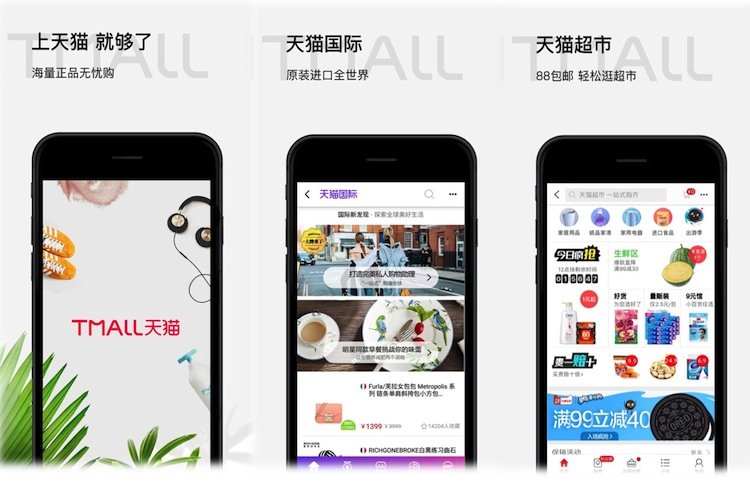 b. Brand eCommerce platforms
A brand's website in China is not typically seen as a direct sales platform, but more brands are going that way after realizing the true meaning of branding.
Thanks to the technology, brand eCommerce platform can now do more than ever before. Besides that fact that you can create a unique storefront that fits best for your audience, the greater thing is: brand eCommerce platform can empower your business with a multi-channel approach. For example, brand eCommerce site can be accessed from desktop, mobile browser and WeChat. This will convey your WeChat followers to shoppers, unleashing your potentials in WeChat system.
Entrance
What are your online shopper coming from? Google may be the case if you are in USA, but that's not the case in China.
Truth is: China eCommerce is no longer a one-way street. Other than directly viewing eCommerce sites, there are more referral paths than ever:
Searching Engine.

Improve your site search can undoubtedly improve conversion rates. Baidu is the biggest search engine in China, followed by 360 Search and Sogou.
Social Media. "Social commerce" plays a vital role in China, and WeChat is the biggest social platform you should focus. QQ, Weibo, Douban are among others.
Online video sites. A new frontier for eCommerce, since video sites can both present your brand/product well, and feature direct links to your eCommerce platform. Youku, Tudou, iQiyi are the most famous video sites, while nowadays live streaming platforms emerge, such as: Inke, Huajiao & Yizhibo.
Map/navigation. Who would thought that a navigation app can bring users to eCommerce? Chinese mobile app AMAP has integrated with Tmall, showing users eCommerce info even they are searching offline stores.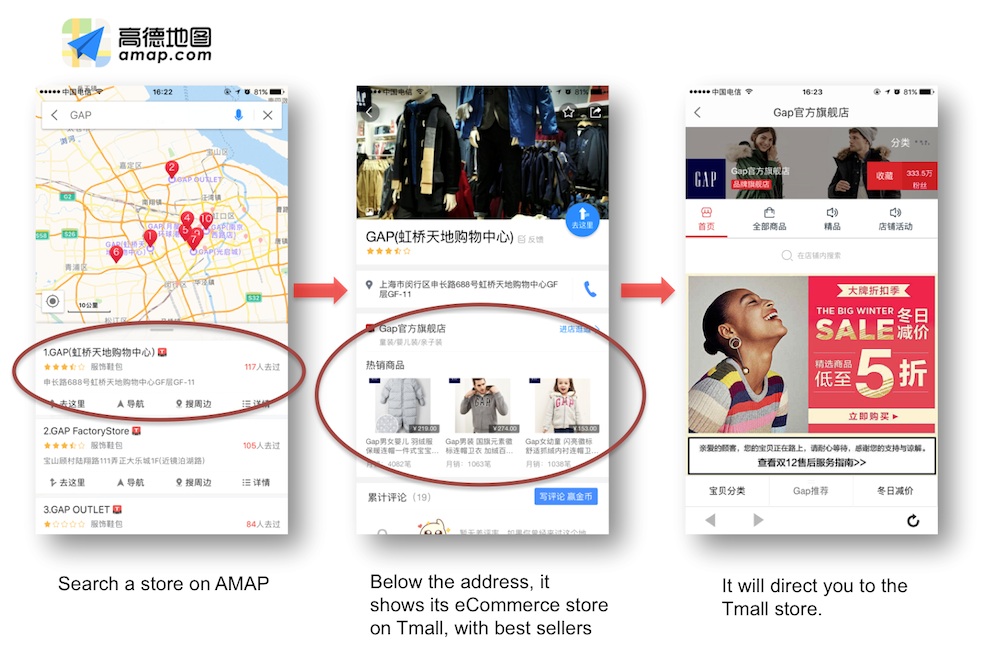 Payment
While the credit/debit card is still used by the majority of Western world when shopping online, In China mobile payments serve as the primary tool for online users to pay. Allowing user to connect their mobile payment account to their bank account, these 3rd party payment solution providers save customers' trouble to type in credit/debit card info every time. One can complete the purchase by either scanning a specific QR code, or just simply tapping the payment button.
Alibaba's Alipay and Tencent's WeChat Pay are the two giants currently dominating China's mobile payments market. Both are popular options amongst Chinese consumers, with 50.42% and 38.12% market share respectively. Hence – business should always offer Alipay/WeChat Pay options in China.
Besides, foreign retailers that have not registered in China are often frustrated with how to collect payment from mainland consumers. Good news is: both WeChat Pay and Alipay provide cross border payment. These payment options act as a third-party to settle foreign transactions on behalf of consumers and merchants, and Chinese shoppers can pay in RMB while retailers receive foreign currency hassle-free.
Logistics
Thanks to China's eCommerce boom, China's logistics industry has made massive strides year after year. China delivered 30 billion parcels in 2016, with more than 80% of them come from eCommerce orders.
Meanwhile, Chinese eCommerce shoppers are spoiled by the quality logistics services. On average Chinese eCommerce shoppers received their parcels in 2.6 days. To better serve Chinese customers, eCommerce platform can integrate with third-party logistics tracking platform, which tracks shipping status from nearly 500 domestic and foreign logistics couriers.
Domestic courier companies are usually preferred by merchants. Comparing to International express companies like DHL, FedEx and UPS, local companies provide fast, secure, reassuring service with lower cost. Competition between local logistics companies heats up, including private-owned SF Express, STO, YTO, ZTO, and state-owned EMS.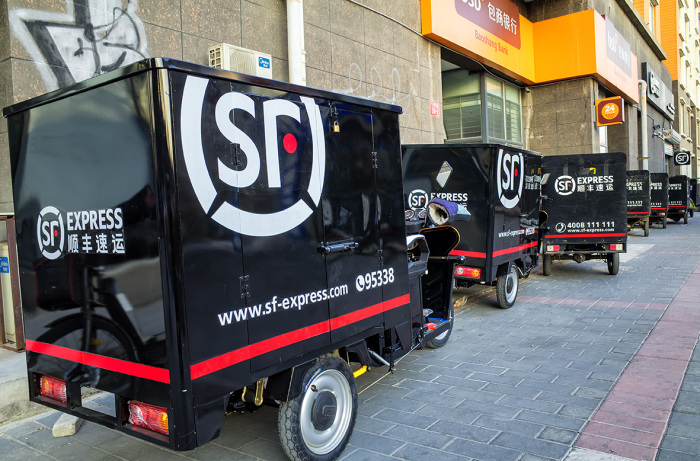 Prior to carrier selection, you must decide on your "import to China" strategy, which is one of the most important factors of your supply chain. The two common options are:
a. "Direct shipping"
Shipping directly from your own country whenever there is an order from China, and duty will be charged together with the price at the time of ordering.
Direct shipping takes longer waiting time, varying from 7 days to 30 days. Also it is more expensive.
b. "Bonded zone"
Set up a warehouse within respective bonded zone in China. Your products will then be transported and stored temporarily within the warehouse under the customs supervision. Whenever you receive an order from China, you can directly ship your goods to the customer from your bonded warehouse.
Bonded zone will obvious reduce customer's waiting time and shipping cost, while holding too many inventories can be a problem if things don't turn out as expected. Besides, there are certain rules outlining what kind of products can or cannot be stored in a bonded zone.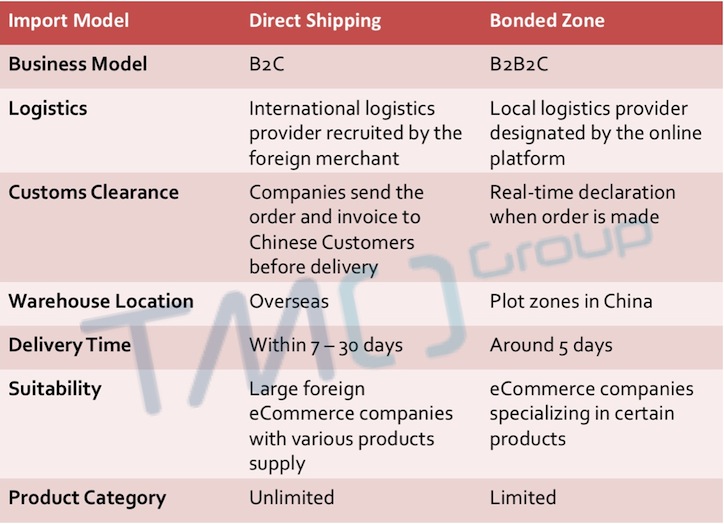 Marketing & Social media
Social media plays an increasingly important role in the evolution of eCommerce, since consumers turn to social media to seek buying decisions and recommendations. When in China, forget about Facebook, Snapchat, Instagram and Twitter (they are blocked in China anyway), and focus your social eCommerce strategy on the biggest social platform in China – WeChat.
WeChat is an all-in-one platform in China: it allows brand to send promotional articles/images/coupons through WeChat account, display image/video ads to selected users and operate its own "WeChat shop" with the help of WeChat Pay. The exciting part of WeChat social eCommerce is: your shoppers are closer than you think. 50% WeChat users check it at least 90 minutes a day, so chances they see your promotional message is very high. Plus, your customers' user data (gender, age, location, etc.) will be visible.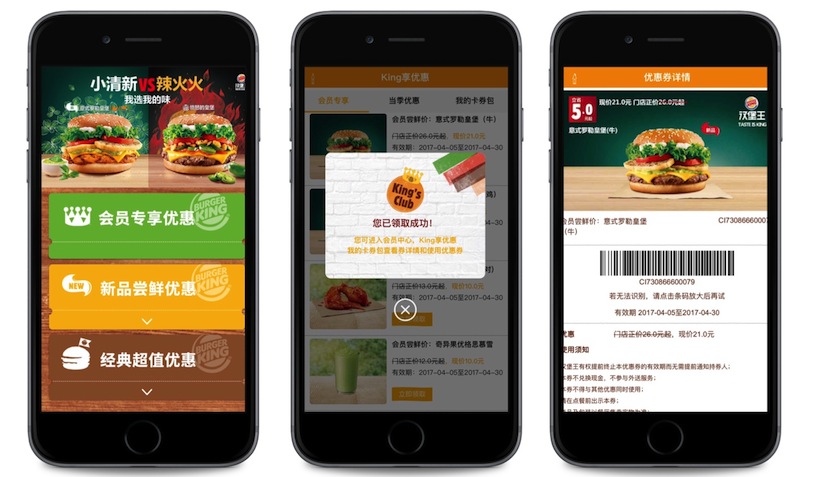 Weibo, QQ, Douban are among other popular social media platforms in China, however it's always WeChat that offers the biggest possibility for your eCommerce to enhance conversion.
Interested in Chinese eCommerce? Want to know what it'll take for your business to thrive in this highly competitive sphere? Get in touch about our consulting services, and we'll see what solution would suit your business best.