WeChat has lost its monopoly on Mini-Programs. In the second half of 2018, Baidu, Alipay, ByteDance and TikTok launched their own Mini-Programs to rival WeChat's dominance. According to Baidu's data published in May 2019, "since the official launch in July last year, there have been over 200 million active Baidu Mini-Program users each month, over 80 thousand developers and 24 open source alliances." 
Advantages of Baidu Mini Programs
Searchability and Information Flow
One of Baidu Mini-Programs' main advantages is the synergy between searchability and information flow. What this means is that through organic search and how information is displayed and delivered, users are naturally directed to the company's Mini-Programs. This is the biggest advantage of Baidu Mini-Programs over other Mini-Programs. In addition, the data that Baidu published shows that, when the quality of content is the same, search results place Baidu Mini-Programs first.  
eCommerce Performance
According to the official data published by Baidu, Baidu Mini-Programs effectively reduce ordering costs by 69% and improve average staying time per person by 108%. Currently, spending on Mini-Programs makes up 20% of sales across the entire platform. 
QuestMobile data shows that after entering Baidu Mini-Programs, each major online marketplace performed considerably well. RED gained 32% extra active daily users; VIP.com's cost of gaining customers lowered by 30% compared to H5 alternatives; Tongcheng-Elong's ROI increased 19% compared to H5; and Tuhu Yangche's ordering costs went down 19%.
Open Source Alliances
Six months ago, Baidu Mini-Program open source alliances were established. 12 platforms including iQiyi, 58.com, WifiKey became part of the alliances, meaning that Baidu Mini-Programs can now be opened within the apps of these allied brands. 
How Can Users Access Baidu Mini Programs?
Currently, Baidu Mini-Programs have rolled out three points of entrance that cover ten different ways to access the applets: information flow, searching, and designated access. 
Searching entrance

: Reaches users accurately by utilizing the Baidu app's active and organic search capabilities. 

Information flow entrance

: Reaches users accurately through paid information flow, ie general and targeted advertisements.

Designated access

: Grants users direct access through Baidu app's Mini-Program portals.
As tested by TMO, Baidu Mini-Programs can only be opened in the Baidu app and the apps of brands that have joined one of the alliances mentioned above. Therefore, Baidu Mini-Programs are mostly limited to Baidu app users. 
User Experience: Baidu Mini-Programs vs WeChat Mini-Programs 
Using Suning as an example, we compared the brand's Baidu Mini-Program (pictured on the left) to its Wechat Mini-Program (pictured on the right). As you can see, the difference is minimal and the Baidu version's interface is just as smooth as the WeChat version's. 
The only noticeable difference is that the Baidu Mini-Program supports both WeChat pay and Alipay pay while Wechat's version only supports WeChat Pay.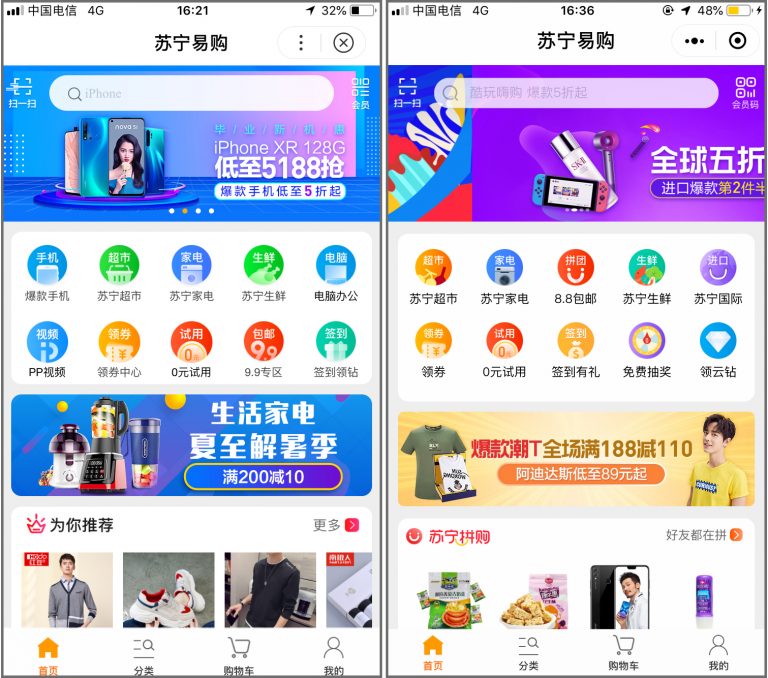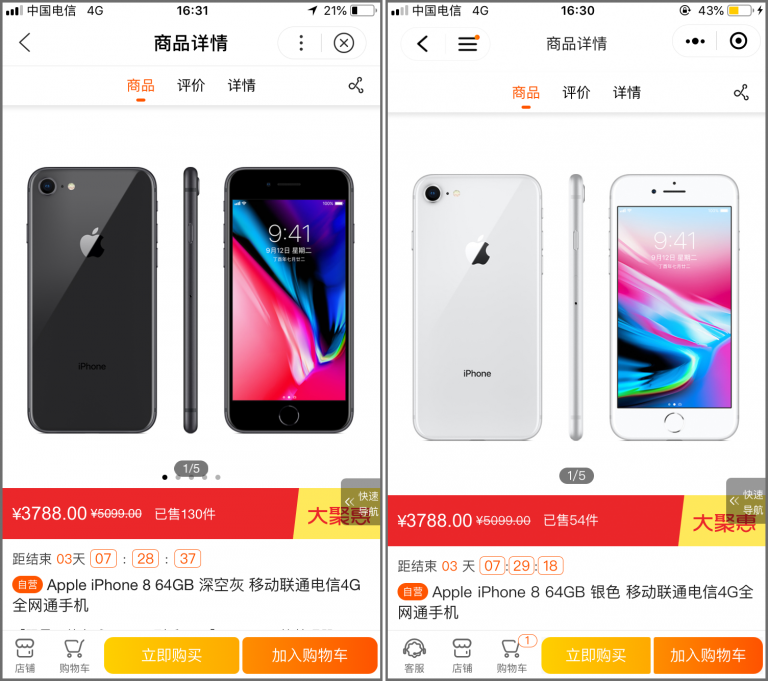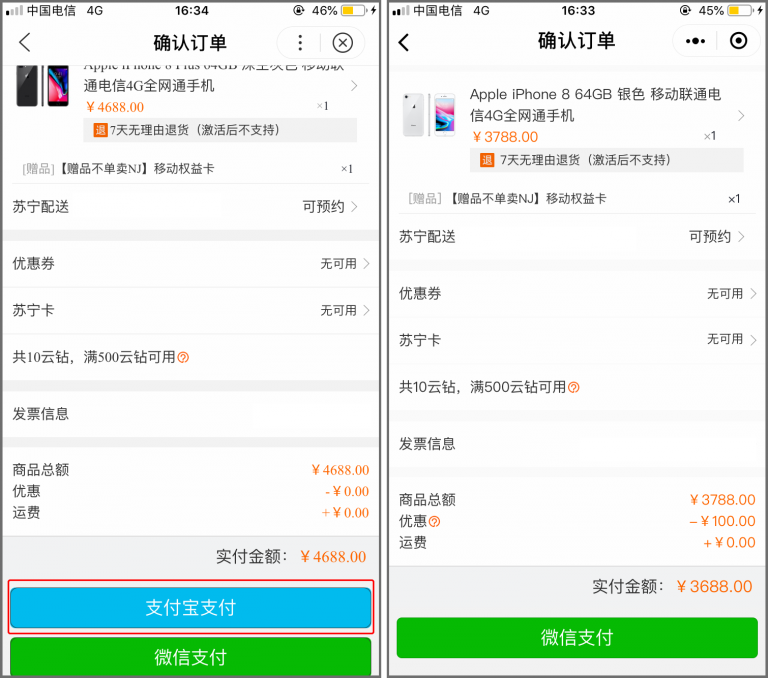 Succeeding with a Baidu Mini-Program from a Cold Start
Leveraging Baidu's Key Advantages
Make use of the power of Baidu's search engine, not only using searching to guide and attract new users, but also using paid advertisements within the search engine and Baijiahao to gain users. This has proven to be a winning strategy for eCommerce businesses.
Monitoring and Optimization 
It is crucial to continuously monitor and optimize Mini-Programs. Baidu supports and facilitates monitoring of Mini-Programs. For more information, please check Baidu's Mini-Program Official Site.
Again using Suning as an example, we concluded that Suning realized an increase of over 21% in optimization rate over H5 alternatives through the following methods:
Technical optimization

: Suning previously had technical issues with its Mini-Programs. Users experienced long loading times, leading them to eventually close the Mini-Program without interacting further. Brands should be wary of this issue and ensure that their Mini-Program is held to a high technical standard,

Operation optimization

: Suning used to ask its users for their login information as soon as they clicked on a product. Consequently, this interaction negatively affected user experience. So Suning changed the login requirement to a later point in the shopping process, only asking users to log in when they were about to add a product to their shopping cart. This minor change increased the login rate by 110%. Therefore brands can learn from this that a smooth browsing and window-shopping experience are important. This is because they enhance user engagement and increase the likelihood for securing a sale.
Joint Events
Baidu, together with its Mini-Program partners, host special events such as for example, Taobao or RED special deals. Above all, these are held to bring in more users through official Baidu discount events. For example, below are some of the events they've run some data regarding them: 
Registering and Developing Baidu Mini Programs
Register and authenticate: Register on the Baidu Mini Program official website. Baidu Mini-Programs do not support individual authentication. Instead, they only allow "media, enterprise, government and other organizations" to authenticate an account. Although this may change in the future. 

Create Mini-Program: Fill in name, provide a brief introduction to the Mini-Program, upload an image and choose the service scope. 

Develop Mini-Program: Develop the Mini-Program, referring to the Baidu Developer Doc and Visual Specification Guide. 

Verify and publish: Once finishing the above verification steps, the Mini-Program is ready for launch. 
For some successful examples of Baidu Mini-Programs, check out major retailers JD.com and Suning's offerings by scanning the QR codes below:
TMO Group can provide you with planning, developing and maintaining your Baidu Mini-Program. We also can help with converting your existing Wechat Mini-Program to a Baidu Mini-Program. For more information, please Mobile Commerce SolutionMobile Commerce used to be a direct extension of a Desktop eCommerce website. But now, it needs to include more to meet consumers demands.contact our experts.